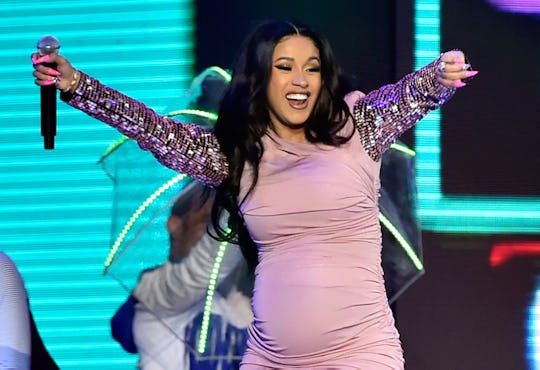 David Becker/Getty Images Entertainment/Getty Images
Cardi B Is Really Enjoying Motherhood With Her Newborn Baby Girl
There's nothing quite like welcoming your first child into the world. Even though countless numbers of women have been doing it for thousands of years, for some reason first-time moms tend to gain a new appreciation for the "miracle of life" after you've participated in it first-hand. New moms also discover that nothing could have truly prepared them for the rollercoaster of emotions they feel as a new parent — on top of the world elated one minute, and then sobbing over the thought of any harm coming to your baby another. It can definitely be a struggle, at times. (You know, on top of the newborn-induced sleep deprivation.) But as it turns out, not everyone experiences a serious case of the baby blues right now. Apparently Cardi B is "over the moon excited" about her baby girl, and it looks like she's fully embracing motherhood.
As E! Online reported, Cardi B, 25, and her husband, Offset, 26, welcomed their first child together on July 10 — a baby girl they named Kulture Kiari Cephus. Just one day after her daughter's birth, the proud mama took to instagram to share a nearly-nude maternity photo of herself surrounded by flowers, while also sharing her baby girl's name and birth date. "Kulture Kiari Cephus 07/10/18" Cardi B captioned the stunning image, along with pink ribbon and pink flower emojis.
Following rampant rumors the rapper was pregnant, Cardi B confirmed in April that she was expecting her first child. While performing "Be Careful" on Saturday Night Live, the close-up camera shot slowly panned out — revealing an obvious bump for the world to see. "I never really wanted to reveal that I had a baby — I just wanted to hide it until the end. And I could have gotten away with it, if it wasn't for those meddling paparazzi," Cardi B told Jimmy Kimmel the following day on The Tonight Show. "I was just scared of what people would think and say. I was just freaking out. But I was like, well why not? Why not present it in a beautiful, clean way?"
In May, Cardi B revealed during a SiriusXM's The Howard Stern Show that she would be having a baby girl. One last bombshell that dropped before welcoming her daughter was that she and Offset had secretly married back in September, People reported. And this revelation pretty much broke the internet.
Now that the "Bodak Yellow" singer is a few days into this motherhood business, it seems as if things couldn't be going better for the new mom — and that she's had a lot of support from family so far. "This is everything Cardi has ever wanted and she is already embracing motherhood fully," a source told Us Weekly. "Her mother and family members have been walking her through the first few weeks and she is cuddled up with her little girl at home." The source continued:
Cardi and Offset are over-the-moon excited. She's the sweetest little girl already. Offset says that the birth of this baby feels like the first time he had a kid all over again.
Too sweet, right? Of course, "reports" like this should probably be taken with a grain of salt. (Anonymous sources, and all.) Also, because this isn't actually coming from Cardi B herself, we don't know how she's truly coping with motherhood. On the surface, she might appear perfectly content with her new role. But after all, roughly 70 percent of new moms wind up with the baby blues within the first week after giving birth, according to Live Science. And according to the American Psychological Association (APA), as many as one in seven women experience postpartum depression. Not to be a total Debbie downers, or anything; these are just the facts.
It definitely makes me happy to read that Cardi B seems to be thriving during this initial phase of her life as a mother. While I have no doubt that she's over the moon in love with her baby girl, I can almost guarantee it isn't all rainbows and butterflies. Because as seasoned moms probably recall, the sleep deprivation and enormous change in daily routine that comes with caring for a newborn is no joke.