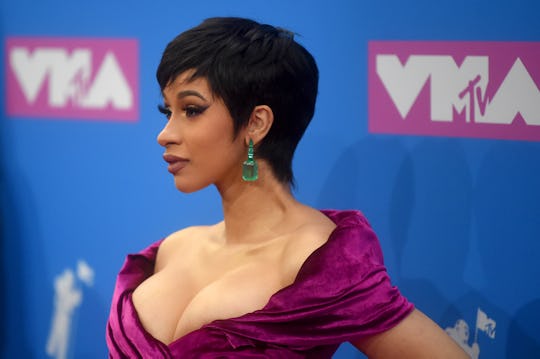 Jamie McCarthy/Getty Images Entertainment/Getty Images
Cardi B Just Made Her First Postpartum Appearance At The VMAs & She Looks *Stunning*
As fans know all too well, Cardi B welcomed her first child with husband Offset last month. The "Bodak Yellow" singer delivered a baby girl named Kulture on July 10 — just over a month ago, at this point. Although the new mom has kept a low profile since welcoming her daughter, she's managed to keep fans updated (and entertained) via social media in between diaper changes and sleepless nights. Well, guys — she's back! That's because Cardi B just made her first postpartum appearance at the 2018 Video Music Awards, and she looks stunning.
Right off the bat, though, I have to crush your hopes and dreams; Cardi B did not be perform at the VMAs on Monday evening, according to Vogue. (At least not in a musical sense.) However, the fact that the singer was there and opened the show at 9 p.m. was more than expected. (You know, considering it's been less than six weeks since she delivered her baby and all.) But that didn't stop the new mom from totally slaying while walking the red carpet before heading into Radio City Music Hall in New York City. Don't believe me? Check out the photos for yourself!
Needless to say, fans were totally stoked to see Cardi B working it at the VMAs. As Metro reported, the star was spotted arriving with a new cropped hairstyle and rocking a purple wrap dress. One Twitter user simply wrote, "Cardi B looks STUNNING."
Another person tweeted, "Her little girl made her grow up! Loving the new look," along with a heart-eyed emoji and clapping hands.
Yet another Twitter user wrote, "Woowww.. she looks ammmazing!"
As E! News reported, Cardi B recently announced via Twitter that she has decided to back out of the Bruno Mars tour — and for very legit reasons. "As of today I've decided I won't be joining Bruno on tour this Fall. It thought that after giving birth to my daughter that 6 weeks would be enough time for me to recover mentally and physically," the new mom tweeted on July 26. "I also thought that I'd be able to bring her with me on tour, but I think I underestimated this whole mommy thing. Not only am I just not ready physically, I'm not ready to leave my baby behind since the doctors explained it's not healthy for he to be on the road." She continued:
I hope you guys understand that this decision has been the hardest to make but I have to do what's best for myself and my baby!
Considering this major announcement, fans probably wouldn't have been too surprised if Cardi B decided to sit Monday evening's festivities out. Then again, the fact that Cardi B went into the VMAs with a whopping 10 nominations — including video, song, and artist of the year, according to Variety — it makes sense that she would do everything in her power to be there in person.
If you remember, Cardi B ended up missing the 2018 BET Awards back on June 24 because she was so close to her due date — and was no longer cleared by her doctor to fly. "I'm sorry I couldn't attend the BET Awards this year, but you know I'm really, really close to my deadline," the singer told fans in a video via Twitter. Even though she couldn't attend, the expecting mom ended up winning the the award for best female hip hop artist, along with the "Coca-Cola Viewers' Choice Award," TIME reported.
As someone who follows Cardi B on social media, it's been so neat to see her journey as a new mother. Her honesty about the highs and lows of caring for a newborn have been refreshing — as well as her acknowledging that maybe she underestimated this whole motherhood business. I know that I respect Cardi B for being able to prioritize her time and make a tough decision about canceling her tour with Bruno Mars. (That's a huge time commitment, after all.) At the same, I'm also loving her for being a badass working mom and stunning at the VMAs tonight. Welcome back, mama!