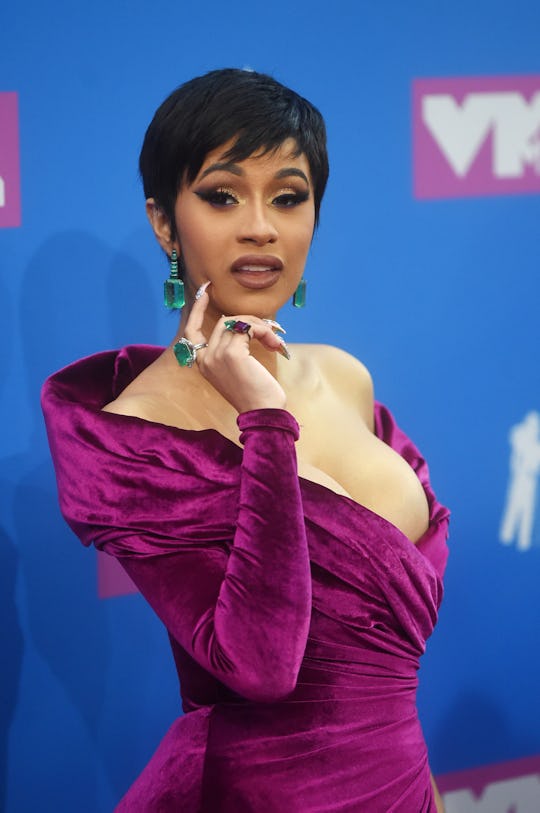 Jamie McCarthy/Getty Images Entertainment/Getty Images
Cardi B Nibbles On Baby Kulture's Tiny Toes, Just Like Every Other New Mom
There's an interesting phenomenon in parenting and, honestly, it's time that it gets talked about. In a recent Instagram Story, fans can see Cardi B and baby Kulture together with the new nibbling on her little girl's toes in one of the most adorable mom traits to ever exist. Come on, if you're a parent, chances are you've definitely sat around fake-nibbling on your baby's feet, too.
Cardi B gave birth to her first child with husband, Offset, on July 10, and since then, she's been notoriously protective of her daughter's privacy, which is understandable. There are no identifying pictures of Kulture floating around (such as full face photos), although Cardi has creatively shared tender photos with her daughter in other ways. For example, Cardi B recently shared a sweet snap of Kulture's itty bitty hands on Instagram. And while there aren't any portraits to see, Cardi does share glimpses of life with Kulture pretty regularly on her Instagram Story — and tonight was no exception.
In a short video on Tuesday night, Cardi can be seen nibbling on baby Kulture's toes. The caption of the video was the short, simple: "Delicious".
Cardi's video is pretty relatable for any mom. Really, anyone who has been around babies in general. But, why do so many parents pretend to eat their baby's toes?
Don't freak out — that desire to pretend to bite on your baby's feetsies is not weird; it's actually pretty normal and there's science to back it up, according to Essential Baby. For instance, a 2015 study published in Psychological Science dove into this trend. For the study, Curiosity broke down that researchers showed participants images of babies whose infant features had been altered to make them "extra cute." After showing the images, Curiosity reported that the team then had participants rate how much they agreed with statements beginning with "When I look at this baby" and ending with things like "I want to protect it" or "I feel like pinching those cheeks". Researchers used a scale of 1 to 100.
What they found was actually really interesting. Sure, the cuter the baby, the more subjects felt positive emotion and a desire to care for it. But, as Curiosity reported, researchers also noted expressions of aggression.
Now, that might sound alarming, but don't worry. Creatures throughout the world, including primates, tease offspring that they're around with fake bites or play, as noted by Scientific American. Think about if you've ever seen an adult dog with some puppies. They definitely gently nip at them, but those nips are never meant to hurt. Those interactions, as Scientific America noted, take a lot of trust.
That urge to nibble on your baby's toes is an expression of positive emotion, trust building, and just a general way to bond. And in Cardi B's video, it's clear that she's definitely bonding positively with baby Kulture. She looks up near Kulture's face at times, smiling at her daughter off camera.
Watching Cardi's interactions with her daughter is honestly so sweet. Although Cardi B has opened up about her struggles after pregnancy and in adjusting to motherhood, she still clearly has a lot of love for her daughter.
Fans are definitely excited to watch as baby Kulture grows. And in the meantime, you'll want to continue to check out Cardi's Instagram Story for more relatable parenting moments like this one. Seeing one parent bond with their child in a way that you did with yours, or that your parents did with you, is a really cool way of exploring just how much we all share in this world.