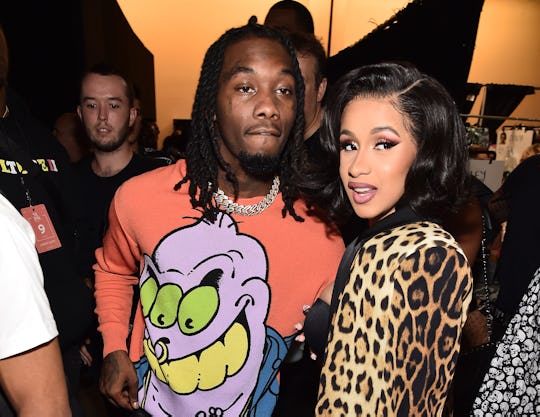 Theo Wargo/Getty Images Entertainment/Getty Images
Cardi B & Offset FaceTiming With Kulture While They're Out At A Club Is Just Too Sweet — VIDEO
There is probably not a more aspirational work/life balance moment than literally video chatting your child while partying with your husband, and as bonafide rap royalty, it's no surprise that Cardi B does it, and does it well. After giving birth to her daughter Kulture earlier this year with husband Offset, Cardi has been very adamant about proving to the world that her career is not "over" (and neither is her life) just because she's now a mom. Cardi B and Offset FaceTiming with baby Kulture in the club proves balance is truly attainable.
On Wednesday, as HotNewHipHop.com reported, the couple was seen via an Instagram post by Cardi holding one another and smiling into Cardi's phone. In the video, you can see Offset holding his wife, and the two of them talking and blowing kisses at the camera. At one point, you can see Offset mouth "Hi, baby!" and Cardi smile super sweetly at her daughter. It's truly a #moment.
And fans seem to agree. Soon after posting, they began flooding the comments expressing their support. "You guys are so in love with your daughter. That's such a beautiful thing," read one response. Others even came to her defense, explaining that her choice to keep Kulture largely off her social media page doesn't say anything about her parenting, or her priorities. "Just cause she don't post the baby every 2 minutes doesn't mean she's always away," another comment read. "Hell, my mom went back to working full-time when I was 2 months and I'm fine, no love lost."
As soon as Cardi announced that she was pregnant earlier this year, she had to face an onslaught of criticisms from those who felt that a child would be a detriment to her career. She adamantly disagreed, as she tweeted back in April: "I started winning when the whole world was doubting on me! Think imma lose with my little baby counting on me?"
Just a few months later, Cardi literally kept winning right alongside her daughter, and during her speech for winning Best New Artist at the MTV Video Music Awards, as Marie Claire reported. "A couple of months ago, a lot of people were saying 'you know, you're gambling your career. You're about to have a baby. What are you doing?'" she said, according to Marie Claire, "And you know, I had a baby, I carried the baby, and now I'm still winning awards!"
However, despite being committed to her career, Cardi has also been super clear about where her priorities are, and that she feels she needs to be with her baby as much as possible. "I can't leave my baby at night, not for one second," she told People back in July, explaining why she doesn't have a nanny. "A lot of people keep telling me, 'You need to find a nanny because you gotta start working soon,' and it's so hard because I want to be with my baby every second."
And Cardi has stuck to her word. After she delivered Kulture, she shared with fans that she was needing more time to recover than she anticipated (which is, of course, extremely normal) and ended up cancelling her tour with Bruno Mars, which she was supposed to go on this fall. As USA Today reported, she explained on social media:
I thought that after giving birth to my daughter that 6 weeks would be enough for me to recover mentally and physically. I also thought that I'd be able to bring her with me on tour, but I think I underestimated this whole mommy thing. Not only am I just not ready physically, I'm not ready to leave my baby behind since the doctors explained it's not healthy for her to be on the road. Thank you Bruno for being so supportive and understanding.
It seems that so many people in Cardi's life have been supportive of her new chapter as a mom and rap icon. Honestly, her aspirations for work/life balance (even when they involve FaceTiming during a party) are nothing short of inspirational.