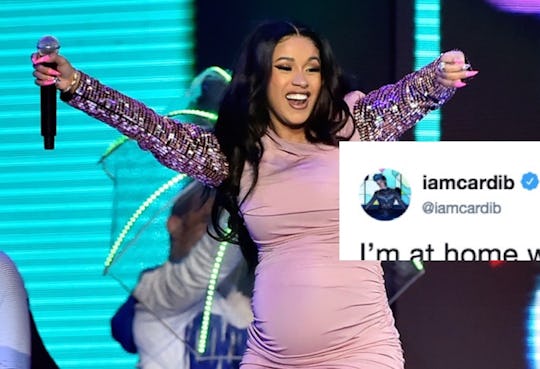 David Becker/Getty Images Entertainment/Getty Images
Cardi B Set The Record Straight About Those Rumors She's In Labor With This Tweet
With weeks, if not days until Cardi B is expected to deliver her first child — a baby girl — the world is understandably on edge waiting to hear the news that Cardi has given birth. Though it's a really exciting time not only for Cardi and her partner Offset, but for all of their fans and followers who have kept up with the couple in recent months. However, despite it all, the mom-to-be isn't going to let any false rumors slide, especially when it comes to her and her future daughter. In fact, on Monday, Cardi B responded to rumors that she's in labor, officially shutting down any speculation.
Cardi B took to Twitter on Monday to respond to some fan inquiries about her being in labor, as Entertainment Tonight reported. "Why is people saying you in the hospital like its [sic] mad annoying cuz they sayin' sh*t with no proof," a fan account posted. Cardi responded to the tweet with her explanation. "I'm at home watching IT," she tweeted back.
Later, she also confessed to fans on Twitter that her ninth month of pregnancy has been difficult: "Last night was the worst night ever. This last month of pregnancy is hell," she said, later joking that she and her daughter are "beefing" over how uncomfortable she is currently.
Though she may not be in labor yet, she's due pretty soon. The rapper revealed her pregnancy back in April, while performing on SNL, The Washington Post reported. At that point, she was already several months along. The Cut reported that Cardi's due date is officially sometime this month, meaning that news of her being in labor could come any day now.
Though she isn't having contractions yet, Cardi has been pretty transparent about the woes and discomforts of third trimester pregnancy. "Been wanting to cry all day," she posted to her Instagram story on Monday. "I'm over it, I'm uncomfortable..." she said. On July 7, she shared more about what she's struggling with on Twitter:
Ebro told me to exercise and walk so my baby can come out easier but I can't even put lotion on my legs with out feeling huffy and puffy. I'm going to try my best to at least walk 5 blocks today!! After this photo shoot of course.
Later she also expressed how difficult it is to put together baby supplies, and how much she was anticipating her husband Offset being able to help her. "I wanna cry cause I don't know how to put this baby stuff together," she said in another tweet. "I feel so lost. I need help... BD [Offset] needs to hurry and come home!!
Cardi B and Offset were secretly married right after he proposed, in September of 2017, CNN reported. "This why I name my album 'Invasion of privacy' cause people will do the most to be nosey about your life. Welp f— it," Cardi B tweeted after their marriage became public in June. "There are so many moments that I share with the world and then there are moments that I want to keep for myself. Getting married was one of those moments!" She continued:
I said I do, with no dress no make up and no ring. I appreciate and love my husband so much for still wanting for me [to] have that special moment that every girl dreams of when he got down on his knee and put a ring on my finger and he did that for me!!
It's a special moment indeed, and though Cardi has been transparent with fans regarding her pregnancy, it shouldn't be too surprising if she keeps the news, and potentially even first photos, of her new daughter to herself for a while. Glamour reported in April that after her pregnancy was announced, people began to question whether or not it would impact her career, prompting her to post: "This is why I didn't want to say nothing."
Be that as it is, we can only hope that she'll keep fans informed when Baby B does decide to make her appearance.