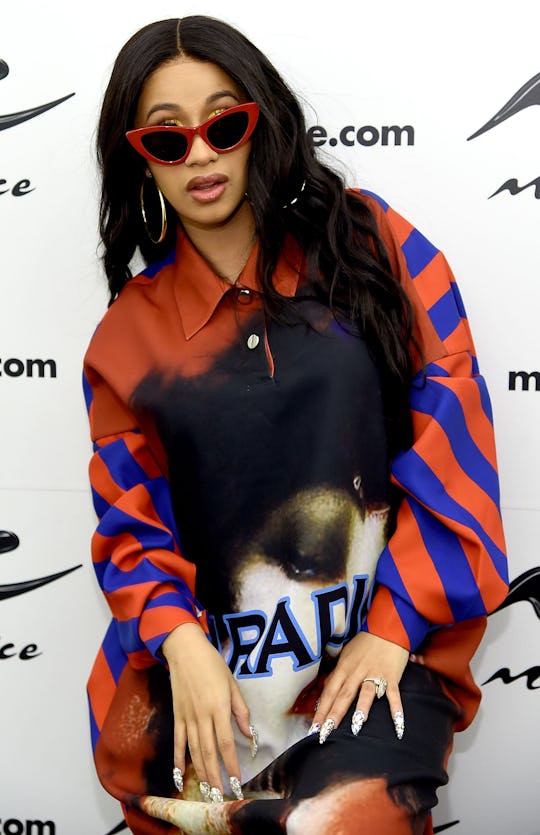 Jamie McCarthy/Getty Images Entertainment/Getty Images
Here's Why Cardi B Hasn't Hired A Nanny To Help With Baby Kulture
Cardi B recently became a new mom on July 10 following the birth of her daughter, Kulture Kiari Cephus, and while she and husband Offset seem totally overjoyed, they're likely also right in the thick of sleep deprivation and 3:00 a.m. baby wake-up calls. For many celeb couples, this would be the perfect time to consider hiring some outside help, but for now it doesn't sound like they're interested. In an Instagram post late Thursday, Cardi B revealed she hasn't hired a nanny, and her explanation is so heartwarming.
In a cute video clip, the "Bodak Yellow" singer explained that the reason she has opted against hiring a nanny to help with baby Kulture is because she "just [wants] the learn how to be a mom," and that she wants "to enjoy every single second" of the new mom learning curve — especially since she already knows she's planning on going back to work. But that certainly doesn't mean she and Offset are on their own or managing new parenthood without any support. In the rest of the video, Cardi B offered her deep gratitude to her parents and sister, whom she said have been unbelievably supportive of her as she's been adjusting to being a parent for the first time.
Calling herself "a very blessed person," Cardi B said that what people may not realize just by seeing her career success is that she's actually "been blessed since birth" because of her family. Calling her parents "her biggest blessings," Cardi B said that her mom has been by her side the entire time since Kulture's birth, and that since the little girl is her first grandchild the two of them have been learning and re-learning about infant care together. Her dad, on the other hand, has been helping out in different ways, like running errands and making sure everything outside the home has been taken care of, and even her younger sister, 22-year-old Hennessy, has been helping out however she can. It's definitely not lost on Cardi B that that's a huge gift not everyone is lucky enough to have. At the end of the clip she said, "I'm just really grateful — I'm just sitting here like, 'God, thank you so much for these amazing parents.'"
If you've also been on the receiving end of tons of loving support from your own parents after having a child, then Cardi B's message is likely one that feels deeply relatable. And if you haven't? Chances are you can totally understand why she feels so grateful. Having a loving "village" can make such a difference when you're wading through the ups and downs of life as a first-time parent — and it certainly sounds like it's had a big impact for Cardi B. In a recent Instagram post, the new mom admitted that "this mommy job requires full day, all day, all night attention," but a source close to the singer told E! News that she's still "been nothing but head over heels with her baby girl" since she arrived.
What's also surely been helpful though for the couple is the fact that, while newborn care might be new to Cardi B, Offset has had lots of practice. Kulture is actually his fourth child — he has two sons and a daughter from previous relationships, according to The Sun — and from the sounds of it his daddy knowledge is coming in very handy. According to E! News, the Migos rapper "has been very helpful because he's been through this before and knows the ropes," and it's only brought him and his wife closer now that their little girl is here. But if Cardi B's recent Instagram photo following Kulture's first doctor's appointment is any indication, it definitely looks like they're leaning on each other (literally!) to get through some of the more emotional moments.
In the pic, Cardi B can be seen cuddling into Offset's chest, looking exactly like every other emotional postpartum first-time mom at their child's first medical appointment (honestly, even though it's meant to be helpful, it can feel so overwhelming), and it's such a sweet shot.
Given the amount of support Cardi B has around her already, it makes total sense that she has felt more than OK not hiring a nanny to help her out. And given that she already knows the end of her maternity leave will likely come way sooner than she wants it to — Cardi B is set to head out on tour with Bruno Mars on Sept. 7, according to Billboard — it also makes sense that she's looking to squeeze out every ounce of mom-and-baby time before her other commitments come into play.
Although not all new moms are able to have loving parents and siblings there to help them during the often-challenging newborn period, it sounds like Cardi B is definitely not taking her good fortune for granted. So while, for some, being able to have help from a nanny is a total life-saver, it sounds like right now, for Cardi B, it's just not necessary.