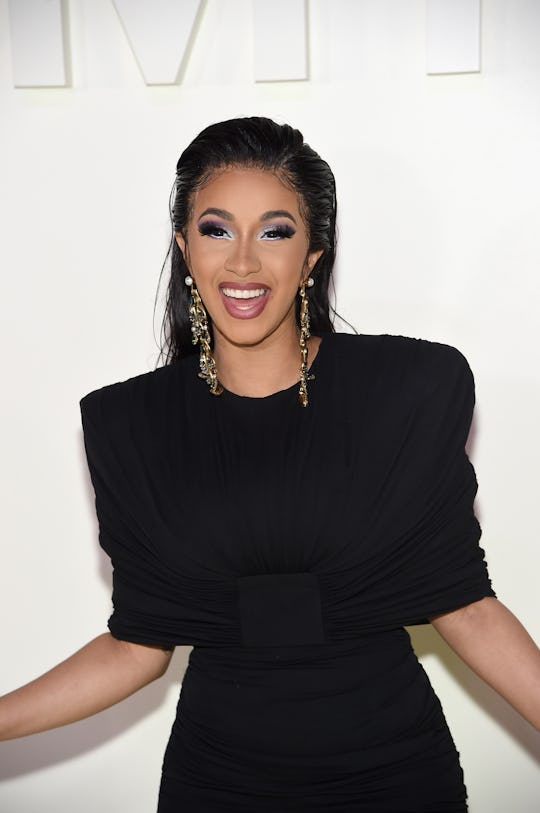 Jamie McCarthy/Getty Images Entertainment/Getty Images
Cardi B Can't Stop Gushing Over Baby Kulture — Even When Front Row At NYFW
New mom Cardi B made a rare post-baby public appearance Wednesday night, and stepped out to sit front row for Tom Ford's show at New York Fashion Week. But it's clear that her infant daughter wasn't far from her mind: Cardi B said being Kulture's mom is "the best feeling in the world," according to E! News, and added, "This is what I was missing my whole life? I love it!"
Becoming a mom seems like it's been the highlight of an already majorly-impressive year for Cardi B — in April the "I Like It" rapper beat Beyoncé's previous record for being the woman with the most songs simultaneously charting at one time, according to Billboard. And while she may not be in any hurry to rush through her maternity leave with her little girl, it sounds like she returned to the spotlight for an event that felt particularly meaningful. On Instagram, Cardi B posted a snap of her looking incredible in her extremely coveted spot in the audience at Ford's show, sitting beside Crazy Rich Asians star Henry Golding and Anna Wintour. And, in case there was any confusion about what a big deal that was for her, she captured the pic, "I CAME A LONG F*CKING WAY !"
The rapper definitely chose a glamorous look for her post-baby red carpet return, opting for a black, figure-hugging Tom Ford gown, and told E! News, "I'm showing my after-pregnancy body, like, 'what's good?'" Yet, from the looks of it, her "after-pregnancy body" doesn't look much different from her "pre-pregnancy body" at all: on Instagram later that night, she shared a snap of herself looking amazing in a lace bodysuit, and captioned the pic, "Whole lotta woman."
From the looks of it though, her NYFW trip was actually a family affair. On her Instagram story, Cardi B shared clips from the runway, but also offered up a quick glimpse of her husband, Offset, cradling their baby girl. But Offset wasn't *just* handling baby duty while his wife was working: in the clip, Cardi B thanked her "baby father" for what appears to be a brand-new green Hermès Birkin handbag (no big deal).
From the looks of it, Cardi B is totally at the top of her game right now — the 25-year-old has a successful career, a gorgeous new family, and looks absolutely incredibly only a few months postpartum. But it turns out that she still has some body insecurities: in a recent Instagram Live video, according to People, the new mom admitted that she wasn't super happy with her "love handles" and post-pregnancy loose skin, and said "It's not much but it's like — I'm used to having, like, a real tight stomach." And though Cardi B said she didn't really have the time to work out at the moment, she was open to the idea of plastic surgery. She said, "I might just get a little lipo, you know what I'm saying?"
It's kind of unfortunate that Cardi B is feeling any pressure at all to look perfect, especially this soon after having a child. But at the same time, it's at least reassuring to hear that even moms who *look* like they've just magically bounced back to their pre-baby body still aren't immune to the physical changes that come along with pregnancy. And given that most celeb moms wouldn't even think of admitting to considering surgery, even if they plan on getting it? Cardi B's straight-up honesty is, as usual, pretty refreshing.
Body hang-ups aside though, it seems pretty clear that Cardi B really is loving being Kulture's mom as much as she hoped that she would, and it's so sweet to hear her talk about her on the red carpet. But, just like any other woman, she also definitely deserved a night out to just be a person. And it sounds like her front-row seat at fashion week more than did the trick.