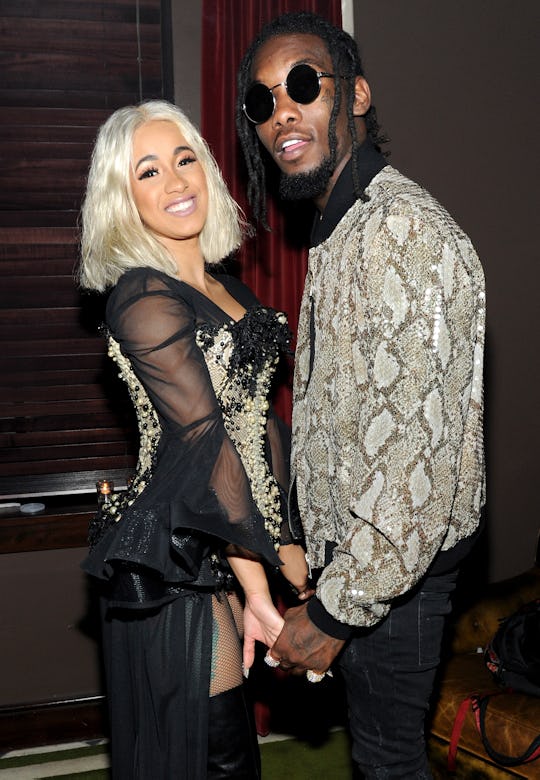 Craig Barritt/Getty Images Entertainment/Getty Images
Cardi B Says Offset Named Their Baby Already, & Fans Have Theories
After months of speculation, Cardi B confirmed she and fiancé Offset are expecting their first child together on during an appearance on Saturday Night Live on April 7. She decided to make the announcement subtly, having the camera pan back to reveal her stomach during her performance. Afterwards, she did confirm it verbally, and her partner and sister even congratulated her on Instagram. Though there are so many questions floating around about the pregnancy (When is she due? Is it really a girl?) in a recent interview with Ellen DeGeneres, Cardi B said Offset named their baby already, and fans have theories.
Appearing on the Thursday episode of Ellen, Cardi B opened up about her pregnancy, first indulging in one of her craving foods, donuts, which Ellen had already set out for her. Then they began talking about names, at which point Cardi said: "My dude named the baby," affirming that she really liked the choice. "I'm gonna let him say the name since he named the baby," Cardi continued when asked whether she'd reveal what the choice was. At that point, Ellen told Cardi she'd give her $20,000 to name her "Ellen," to which Cardi said: "Can I put it in the middle name?" (Touché, Cardi.)
Ellen went onto ask whether or not the baby's name was something simple, like "Susan," to which Cardi said no. She then asked if it would be something "tricky," which Cardi pretty much nodded to: "Almost tricky, but when it comes out, it's like, 'ohhh.'" Though it seems like that's as much detail as fans are going to be getting for now, people on social media are already theorizing what the baby's name might be, and TBH, it's getting pretty creative.
1. Carset
One fan suggested that the rappers should combine their names into one: "Carset."
2. Offspring
Some fans are joking that the couple should do a play on Offset's stage name and name their child Offspring.
3. Cardi C
If Cardi does have a daughter (and people have speculated that her sister accidentally revealed as much already) one fan suggested that she name her Cardi C, the next letter in the alphabet after Cardi B. Perhaps their next children will be Cardi D, E, and F?
4. Balenciaga Jetset
Though it's unclear where the name "Balenciaga Jetset" would come from, it's definitely unique, and of course, the baby's first name would be after a designer.
5. Bardi the Barbie
Responding to a tweet in which Cardi B shared a video of her talking about having a baby three years ago, one fan responded that the name should be "Bardi the Barbie," and though the first name bears resemblance to the song title "Cartier Bardi," the "Barbie" part is an unexpected twist.
6. Jesus
One fan suggested that Cardi should name her baby "Jesus," because she is, uh, an "angel." (No arguments on the latter point, though.)
7. Offset Jr. or Bocardi
In one poll, a fan asked their followers whether the couple should name the baby Offset Jr., Bocardi, Bartier or Cardi Offset Junior. The results were a 50/50 match for Offset Jr. and Bocardi.
8. Junie B
Perhaps playing off of the famous children's book character Junie B. Jones, one fan suggested that Cardi name her child "Junie B," saying that it makes "perfect sense" (probably because of the single letter after the name).
9. January
Though there's already been speculation that Cardi isn't due until July of this year, one fan thinks she should name her baby "January," for reasons that are unknown at this point in time.
10. Onset
Using another play on Offset's stage name, one fan suggested the baby could be named "Onset." (Get it?)
Check out Romper's new video series, Bearing The Motherload, where disagreeing parents from different sides of an issue sit down with a mediator and talk about how to support (and not judge) each other's parenting perspectives. New episodes air Mondays on Facebook.