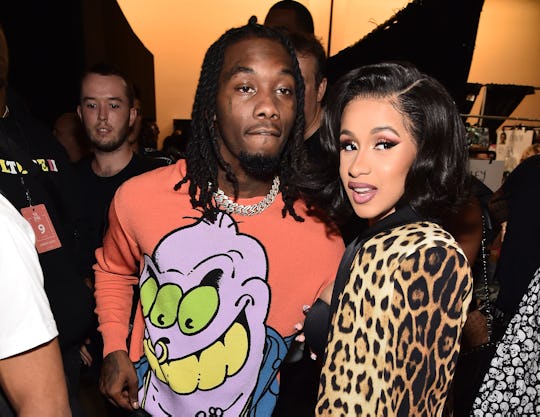 Theo Wargo/Getty Images Entertainment/Getty Images
Cardi B Posts Video Announcing She & Offset Have Split Up After 1 Year Of Marriage
Rapper Cardi B may be having an incredible year as a record-breaking music superstar and a proud new mom to her baby girl, Kulture, but it looks like there has been at least one major bump in the road. In a video shared on Instagram on Tuesday, Cardi B said she and Offset have split up, according to People, and it was a sad announcement fans definitely didn't see coming.
In the post, Cardi B addressed rumors about her relationship status, and admitted that she had "been trying to work things out with [her] baby father for a hot minute now," but that "things just haven't been working out between us for a long time."
From the sounds of it though, fans shouldn't be expecting a super drama-filled split: the "Bodak Yellow" rapper said she and Offset are still "really good friends and ... really good business partners," and that they simply "grew out of love."
But more than anything, there's one particularly important element that will always bond them to one another — their daughter. Cardi B said, "it might take time to get a divorce and I'm going to always have a lot of love for him because he is my daughter's father."
A rep for Cardi B did not immediately return Romper's request for comment.
Cardi B's announcement seemed to come as quite the surprise to fans, especially since the couple was recently spotted kissing at a Laker's game, according to People, and on Nov. 24, Cardi shared a video of Offset on Instagram in which she called him "sexy" and "fine," and hyped up his soon-to-be-released album:
In fact, the sudden timing of the split announcement had some fans wondering if maybe the two hadn't actually called it quits at all, but instead maybe have been pranking fans with a breakup publicity stunt:
But while fans of the couple might be hoping that Cardi B and Offset might still be together, the reality is that, as two people who share a 4-month-old baby, it couldn't have been an easy decision if they really have split. It's been just over a year since they got married in secret in an impromptu September 2017 wedding ceremony, according to E! News. In June, Cardi finally revealed the news on Twitter, and said, "We found someone to marry us, and she did, just the two of us and my cousin. I said I do, with no dress, no makeup and no ring!"
Two months prior though, Cardi also made quite the statement by debuting her bump during a performance on Saturday Night Live in April, according to Billboard, revealing for the first time that she and Offset were actually expecting a baby together.
In fact, it wasn't that long ago that Cardi seemed to be suggesting she was already looking forward to having another child with Offset: in a tweet in October, she wrote, "Would ya be mad at me if i get pregnant again?" Fans naturally took the tweet to be a sign that a second pregnancy announcement probably wouldn't be far off, but for now, at least, it seems that the two have decided instead to go their separate ways.
It's never easy to go through a breakup, but when you have a young child to think of, it's so much more difficult. The good news, at least, is that, while Cardi B and Offset might not have anticipated calling it quits, they still seem to be totally dedicated to staying on good terms for the benefit of their little girl. And the fact that they appear to still have a really solid friendship between them will definitely make that so much easier.
This first-time mom wants to have a home birth, but is she ready? Watch how a doula supports a military mom who's determined to have a home birth in Episode One of Romper's Doula Diaries, Season Two, below. Visit Bustle Digital Group's YouTube page for the next three episodes, launching Mondays in December.