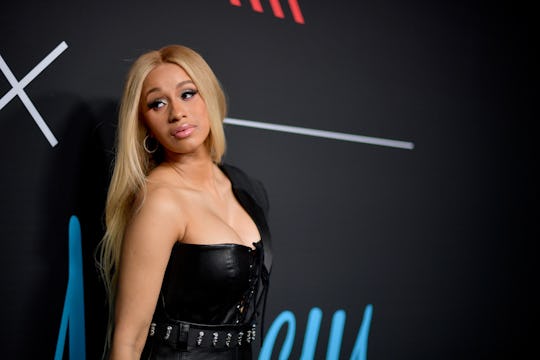 Matt Winkelmeyer/Getty Images Entertainment/Getty Images
Cardi B Filmed Her 'I Like It' Music Video While 5 Months Pregnant, & Parents Are Obsessed
Shortly after Cardi B confirmed her pregnancy on Saturday Night Live in early April, she assured fans her career would stay on track. Although Cardi B is under no obligation to deliver hits while pregnant (everyone has a right to self-care), it's obvious the rapper intends to stay true to her word. Want proof? Look no further than Cardi B's new music video for her hit single, "I Like It." What's especially impressive about the video is that Cardi B was five months pregnant during filming — a feat that isn't going unnoticed by parents. And in a not-so-surprising twist, many fans are taking to Twitter to congratulate Cardi B on her new accomplishment.
If you Google Cardi B and "I Like It," you'll find a ton of articles about how the song is the unofficial anthem of the summer. But the song — featuring Bad Bunny & J Balvin — represents more than just catchy lyrics. Most of all, the song is about Cardi B cementing her status as a successful working parent. And when you throw the song's music video into the mix, it's clear Cardi B will have no problem juggling motherhood with her career — especially when you consider she was five months pregnant (7 months in some scenes) during the shoot. Making matters even more amazing is that the music video was filmed in Miami, meaning that Cardi B endured hot temperatures and an overwhelming amount of humidity to get the job done. Get that girl a Video Music Award, stat.
"On the 'I like it' music video for the for the [sic] yellow skirt and the group scene i was 5 and a half month pregnant," Cardi B wrote to her Twitter followers on Tuesday, the day of "I Like It's" premiere. "The red dress scene 7 month pregnant. Bro when i tell you i was so uncomfortable and hot in Miami omg I'll talk about it later."
Talk about an achievement. I can't even begin to imagine how uncomfortable Cardi B felt dancing around in the Miami heat with a growing human inside of her. Not all heroes wear capes.
As it turns out, a lot of parents share my appreciation for Cardi B's work.
"I love how cardi b got soo much done while pregnant," one fan gushed, according to Twitter. "Her whole album, all dese videos. working mom's."
Someone else added:
I love how cardi b has been doing all these music videos pregnant bc not only does it prove women can do anything/that u can have a baby and a career but also that you don't need to be society's idea of in shape or whatever to look hot as f**k in a music video. She is amazing.
"Between 5 and 7 months pregnant, @iamcardib filmed a music video in the blazing heat of Miami," one person penned. "I'm 6 months pregnant and can't even bend down properly."
Don't @ me but IMO no woman has broken more ground in normalizing motherhood + career ambition and representing pregnant bodies in pop culture than @iamcardib. From her SNL debut to rocking that 5-7 month baby bump in her music video for I Like It she is killing it. #GetItGirl.
Of course, Cardi B isn't the only parent out there who has worked while pregnant. One fan said as much, writing on Twitter: "Why is Cardi B getting praise for shooting a music video while pregnant, the majority of pregnant women still work there normal job until they give birth, but you don't see them getting any extra praise."
Although society should champion all moms — whether they work or not — Cardi B is receiving additional attention because she's defying the unfair expectations set for celebrity mothers. When a celebrity announces they're pregnant, for instance, their identity gets snatched by the media. From the #bumpwatch phenomenon (how awful, right?) to magazines' obsession with maternity style, pregnant celebrities often struggle to control their own narrative. As for Cardi B, however, she's fighting against society's need to put women into boxes. Cardi B wants the world to know that she's an artist and a soon-to-be parent.
The best part about Cardi B's continued success is that her daughter will get to witness it. And Cardi B touched on that in an Instagram video about the shoot. "Let me tell you, I was so overwhelmed because it was so hot… I was really cranky," Cardi B admitted, according to Instagram. "But the outcome is beautiful. And I know one day I'm going to be like to my baby: 'Yass, girl. You was inside of me when I did all of that sh*t.'"
On that note, here's to Cardi B's successes and her daughter's impending arrival. Cardi B has so many things to celebrate these days, and parents are thrilled to share in her happiness.