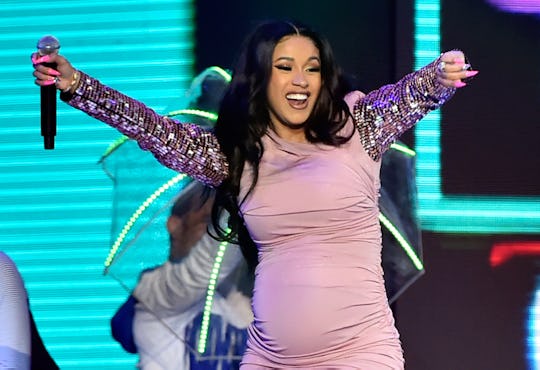 David Becker/Getty Images Entertainment/Getty Images
Cardi B Showcases A Bare Bump On The Cover Of 'Rolling Stone' & Fans Are Here For It
I don't care what anyone says: Cardi B is an American gem, guys. End of story. Not only is this talented rapper a force to be reckoned with on the hiphop charts, but her genuinely real personality has won over the hearts of this nation. From her brutal honestly, to quirky catch phrases and sound effects (okurrrrt!), to her classic rags-to-riches backstory, who doesn't love a good Cardi B interview? And after the singer revealed she was expecting her first child with fiance Offset, her quotes have only gotten better, in my opinion. That's probably why I'm so stoked to see Cardi B showcasing her bare bump on the cover of Rolling Stone. And fans are here for it.
Or I should say, I would have been excited if the cover photo hadn't been leaked before its publishing date. Cardi B took to social media this weekend to begrudgingly share the photo — because apparently it started circulating before the official release date, Us Weekly reported. The shot features the eight-months-pregnant, nearly-naked rapper striking a pose while her fiance, Offset, is adorably cradling and kissing her bump. Along with the photo itself, Cardi B shared a clearly annoyed, yet positive message. "I guess it was too much to ask to wait until the official July release of our @rollingstone cover!" the mom-to-be wrote. "This cover is so special to me and means so much! Thank you to everyone who helped put this amazing cover together!" She continued:
Even tho it was leaked and suppose to be In gray f*ck it. My daughter made it to the Rollin Stone cover !!!! Official release in July. You can't ruined what's for me. ROCKSTARS.
Despite the photo's unwanted early release, fans were totally there for Cardi B's moment in the spotlight. "You make pregnancy look so amazing," one Instagram user commented.
"You look stunning @iamcardib!!!" another person wrote. "Don't worry about the naysayers, they can't stop your shine only you can stop all of your spotlight!!!!! So keep applying pressure."
"My mouth dropped when I saw this, girl your [sic] flawless," yet another Instagram user commented.
If you remember, pregnancy rumors began swirling shortly after Cardi B and Offset became engaged in October. In February, the "Bodak Yellow" singer denied the rumors on social media after a fan asked, "Is there maybe a Kylie Jenner secret that we need to know about lol Just asking," People reported. Per her signature sassiness, the rapper quipped back with, "No bitch I'm just getting fat. Let me fat in peace."
On April 9, Cardi B again addressed the pregnancy rumors during an interview Beats 1's Ebro Darden on Apple Music — well, sort of. "I have been so open to people about myself. People cannot expect me to be open about everything," the rapper said, according to People. "Certain things to me, it has to be private. You cannot invade my privacy." She continued:
I'm not a damn animal at the zoo that you just could see everything, no. People will just find out more. If it arrives, if it don't [sic] arrive, then you gonna know what the f— is going on.
(Amen, sister.)
It wasn't until later in April that the rapper finally confirmed the baby news during a performance of "Be Careful" on Saturday Night Live, Vanity Fair reported. At around the 2:35 mark, the camera starts to slowly pan out — effectively revealing Cardi B's adorable bump.
The very next day — during an interview with Jimmy Fallon on The Tonight Show, Cardi B explained her decision to make the big reveal on SNL, Just Jared reported. "I never really wanted to reveal that I had a baby. I just wanted to hide it until the end," she told Fallon. "I could have gotten away with it if it wasn't for those meddling paparazzi!" Cardi B added:
Because you know, I was just scared of what people would think and say. I was just freaking out. But I was just like, 'Well, why not? Why not present it in a beautiful, clean way?
At the Met Gala in May, Cardi B officially revealed she was having a baby girl during an interview with Entertainment Tonight. "Oh, she wants to fight me! My dress weighs about 35 pounds plus baby," Cardi B said while on the red carpet. "It's ok though, I used to go up the project stairs…" She continued:
Shorty weighs three and a half pounds. She do! She do weigh three and a half pounds. That's pretty good for seven months because I was born five pounds.
To me, this Cardi B cover photo is empowering AF. Not too many people have the guts to pull off a nearly-naked, pregnant cover shoot, after all. Even though it was leaked before the July publish date — and not in its final state, mind you — Cardi B still owned it and was incredibly proud of the accomplishment. After all, her baby girl (who is due in July!) will be on the cover of Rolling Stone before she's even born. And that's pretty darn bad*ss.