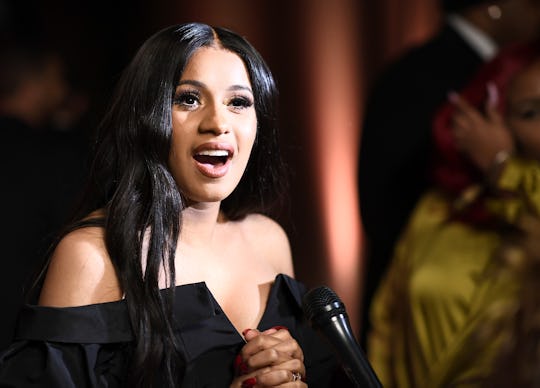 Dimitrios Kambouris/Getty Images Entertainment/Getty Images
Cardi B Shut Down Pregnancy Rumors With The Most Epic Response
Cardi B has had one heck of a year. She's blowing up the charts, she performed at the Grammys, and has everyone wondering how she makes that bird sound. Still, people are body-shaming her, proving that women really can't get away with anything unless they have a certain body type. Luckily, being the legend that she is, Cardi B shut down pregnancy rumors with the most epic response. In fact, it should literally be everyone's motto from here on out.
She posted a video of her rapping a song in Spanish on Friday but instead of admiring her skills, people were checking out her body. In the comments, people wrote things like, "I see that baby bump!" Or "you lookin pregnant girl." Cardi hopped into the comments section and responded to the haters writing, "No b*tch I'm just getting fat. Let me fat in peace."
Listen, the Bronx native uses colorful language sometimes, so while you might not love that she called someone a "b*tch," it's pretty amazing that she didn't say the word "fat" like it's a bad thing, which is usually what we hear from people. Putting on a pound or two, if she even is, is no big thing. And there's absolutely no reason that people should be scouring her Instagram for signs that she and boyfriend Offset are having a baby. Why are people always so keen on a woman getting pregnant? Sheesh.
People On Social Media Loved Her Comeback
Cardi B is breaking all kinds of records this year with her mega success. According to Billboard, Cardi was the first female rapper since Lauren Hill in 1998 to top the Billboard Hot 100 with her song "Bodak Yellow." She also has two other hits in the top 10 at the same time, which is a very, very rare thing for an artist to do.
She's come a long way from her stint on Love and Hip Hop and trying to prove to people that she was legit. Even if you don't love her music, it's hard not to appreciate her rags to riches story. According to Urban Islandz, she said at her Atlantic Records party to celebrate topping the charts:
Thank you everybody I am very happy and I am very honored. Especially since my family is here you know like at first I kept asking and I keep coming to the label like why is my sh*t not playing on the radio I do not understand whats going on and then they just be like you gotta keep working hard to get the record that big record.
She added, "I said am going to do it am going to give you that record… And then it was just like when it hits the Billboard, you know I don't know how this music industry work, but then am like everybody listening to this song. If it's not on the Billboard then it really doesn't matter." She really does have a way with words.
Sometimes that gets her into trouble. Her fiancé, rapper Offset, has a lyric in one of his songs that goes, "I can't vibe with queers." For obvious reasons, people on social media called him out for what they felt was a homophobic sentiment. In response, Offset Instagrammed a picture of the word in an online dictionary, noting that he meant the word "queer" as someone who's quirky or unique, adding that he didn't know the word has a certain meaning in the LGBTQ community, according to VH1.
Cardi B came to the defense of her fiancé, according to Pitchfork, and said:
I'm not going to let somebody call him "homophobic" when I know that he's not. And I'm saying this because I seen him around these–around gays, and he treats them with the same respect he treats everybody. He never acts uncomfortable and he just don't care.
The rapper added that she felt the LGBTQ community should help "educate" people instead of attacking them when they make mistakes. Some people are still understandably offended or disappointed about the lyric and that the couple double downed on the position, according to HuffPost. Hopefully, they've learned their lesson and will be more inclusive moving forward.
One thing's for sure, though: Cardi B will never just sit by and let people talk about her without chiming in. You have to respect that about her.
Check out Romper's new video series, Romper's Doula Diaries:
Watch full episodes of Romper's Doula Diaries on Facebook Watch.