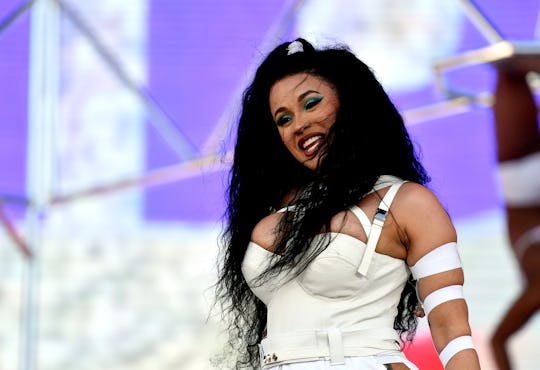 Frazer Harrison/Getty Images Entertainment/Getty Images
Cardi B Begs Baby Kulture To Sleep In This Highly Relatable New Video
As I write this, my infant daughter is screaming bloody murder while my husband attempts to get her down for anything resembling a nap. It's a struggle when littles refuse to sleep, and one that even celebrity parents have to fight through. Via her Instagram Story, Cardi B teases first look at baby Kulture while begging her to go to sleep, proving that she feels the stress of hectic infant sleep schedules as much as the next gal.
Cardi B and husband Offset welcomed their first child together on July 10, according to Vulture, and baby Kulture Kiari Cephus has been keeping the fam on their toes ever since. Most recently, mom and music megastar posted a video of the babe to her Instagram story that showed her begging her to go to sleep. Do sleepy. Can you believe that I have no slept because little one doesn't want to go to sleep? Please go to sleep," she says in the video while Kulture coos in the background.
In a video from Tuesday, Cardi explained why she's so worn out, according to People. "I got home at 8:30 am from my flight and she been up this whole time! I fed her twice and bath [sic] her and she ain't with it," Cardi captioned the black and white video showing Kulture's little feet kicking away. Mom can be heard saying "You need to go to sleep, I'm tired. Aunty sick and mommy tired," in the background, but Kulture doesn't seem sympathetic to her situation and refuses to go to sleep, despite her mother's desperate pleas.
As any new mom can tell you, sleep is hard to come by with a newborn around. A survey conducted by the big brains behind Owlet Baby Care found that "nearly half of all parents with children six months or younger get just one to three hours of uninterrupted sleep a night," according to Fit Pregnancy, so Cardi isn't alone in her sleep struggles.
She recently opened up about how hard it is to get by on so few z's. "I wish I could show you my face but a b*tch look f*cked up in the game! Like, my hair's f*cked up. My eyes are so dark and puffy. Like, I', wild pale like a b*tch looking like she got jaundice,' she said according to The Guardian. "Let me tell y'all something. No matter how many books y'all read, advice y'all get, y'all never be ready for mommy mode."
Aside from sleep deprivation, Cardi seems to be enjoying motherhood. In another video posted on Sunday, and reported by People, Cardi gave fans a glimpse into her new life. She is leaned over Kulture's bassinet, serenading her with a creatively remixed version of Drake's hit song, "In My Feelings." and sings it to her little one.
Judging by Cardi's fairly regular updates to social media, life with Kulture is quite the adventure. In the midst of bonding with her baby, she has taken some time to look back on the two's first few shared moments. In a silly tweet, Cardi shared:
Minutes after my daughter was born she was sticking out her middle finger and she stay doing it now all the time. She [is] Soo disrespectful wonder where she got it from?
Newborns are infamous for their hectic sleep schedules and it sounds like Cardi and Kulture are in the throws of it. Fortunately for momma and baby, little ones tend to fall into some sort of a pattern after a couple of months — until the dreaded four month sleep regression, that is.