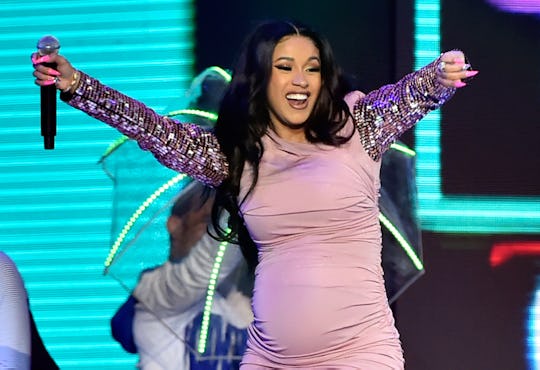 David Becker/Getty Images Entertainment/Getty Images
Cardi B Got Hilariously Real About Wanting To "Hibernate" In Those Final Stages Of Pregnancy
Pregnancy is exhausting. That's just an indisputable fact when someone's growing another tiny human inside of them and it's something Cardi B hasn't shied away from touching on. In a recent Instagram video, it was even more clear. In fact, Cardi B said she wants to "hibernate" in her third trimester and fans, especially fellow mamas-to-be, couldn't relate more.
Back in April, Cardi B finally made her iconic pregnancy announcement on Saturday Night Live, and fans have been eagerly trying to keep up ever since. Cardi B had spent weeks dodging rumors before appearing on SNL. What was best about the announcement was that Cardi B didn't actually say anything. Instead, during her performance of "Be Careful," the camera panned out on her tight-fitting white dress, giving the audience a full view of what was unmistakably a pregnancy bump.
Cardi B is expected to have her baby in July, according to Us Weekly, and it's hard to believe time has gone by so fast! Except, maybe, not quite fast enough for Cardi B. In her new Instagram video, the 25-year-old rapper was quite frank about what it's like to be in those final stages of pregnancy.
For someone pretty well known for sporting extravagant outfits, full nail sets, wigs, and a full face of makeup, Cardi B was fairly dressed down in this video. But, that makes perfect sense, given her message.
Cardi B started out by saying, "So I'm at this point in life that, like, I don't wanna wear no heels. I don't wanna wear no sneakers...I just wanna wear these loose a** dresses. I don't wanna wear nothing."
It's a vibe that could definitely be picked up on, as Cardi B recorded herself in a fairly relaxed summer dress, complete with a silk scarf on.
"I don't wanna do sh*t, I don't wanna look at people," Cardi added towards the video's end. "Cause looking at people I feel like I'm exercising my eyes. I just wanna hibernate." She even captioned her post with:
😩😩😩brooo everyday for 6 hours straight i want to lay in bed ,then i want to get up and start cleaning and writing on my planner and making meetings on the phone and walking .
She even added an update that further stresses her point to her Instagram Story: "I'm so uncomfortable."
Can anyone blame her for being uncomfortable and exhausted? Being a working mom-to-be, no matter the profession, takes a lot out of a person and it seems other moms can totally relate to Cardi B's rant. Some moms echoed Cardi's fashion rant in the comments, like one who wrote, "House shoes was my best friend when I was pregnant. Had them to match every fit."
More moms commented, offering their own support. "I get it I have had 3 kids I been there. I feel your pain bless you but you will be glad for the little bundle of joy when she gets here," one fan wrote.
Another added, "Awww babygirl's getting ready to make her entrance. Rest up Momma! You've worked so very hard and achieved so much all while pregnant. Blessings Queen".
Watching moms gather to support another mom-to-be is honestly really touching and, most importantly, speaks to the value of community. Becoming a mother for the first time is nerve-wracking, so having a village to help support new moms through the journey is incredibly important. Cardi B is lucky to be able to find some of that support in her fans.
Clearly, fans cannot wait for Cardi B's baby to arrive. And for those who missed it, the comments mentioning Cardi's baby girl aren't just taking a wild guess. Back in April, Cardi's younger sister, Hennessy Carolina, accidentally alluded to the baby's sex in an Instagram post, as reported by The Cut.
Under a picture of Cardi B, Carolina initially wrote, "I'm going to be able to hold ur baby and give her all the kisses and hugs," according to The Cut. Later, The Cut reported, Carolina changed the caption to, "I'm going to be able to hold ur baby and give the baby all the kisses and hugs."
The slip-up maybe could have been brushed under the table and ignored, but fans have a way at constantly picking at things. Nothing made that more clear than how people pursued rumors around Cardi B's pregnancy to start. So, this time around, the rapper clearly chose the path of least resistance. On The Howard Stern Show, The Cut reported that when asked outright whether she was having a boy or a girl, Cardi B confirmed, "I'm having a girl."
Now, we're all eagerly waiting until July to, hopefully, catch a glimpse of the little baby. And, until then, Cardi B has made it clear: she's going to take some time to herself and hibernate.