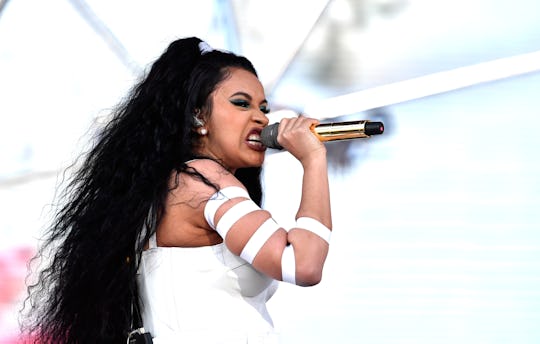 Frazer Harrison/Getty Images Entertainment/Getty Images
Sounds Like Cardi B Is Throwing Herself The Baby Shower Of The Year
As if Cardi B wasn't busy enough with her pregnancy, planning a wedding to her fiancé Offset, and promoting her album Invasion of Privacy, she's now taking on a new task — planning her baby shower. And, unsurprisingly, Cardi B's baby shower plans sound over the top and fun as hell.
The rapper opened up about how she plans to celebrate her upcoming daughter's birth in a cover story for Rolling Stone. "I want a lit baby shower ... My baby shower's not starting at no 5:00. My sh*t is going to start at 9 p.m. because that's how I celebrate, that's how Caribbean people celebrate," she told the magazine. "I don't like baby showers that be at 5 p.m. in the backyard, eating, cooking hors d'oeuvres. Nah."
Honestly, a late-night baby shower sounds pretty fun. Not to mention, the fact that Cardi still has the energy to stay out partying into the wee hours of the morning at about seven-and-a-half-months along is something to be proud of.
"I've got to buy mad flights for my friends from New York," Cardi, who is currently living in Atlanta, also told Rolling Stone. "I haven't even sent the invitations ... I forget everything."
"Sh*t, I might even drink some red wine. Red wine's healthy, right?" Cardi jokingly added. Some of Offset's family members were present for the interview, and they warned her against having a glass of wine. "Don't let Mama see you drinking that red wine," one of them told Cardi, referring to Offset's mom. "She's going to have a fit."
Even though it sounds like Cardi was just having a laugh (Rolling Stone noted that she had a "mischievous look on her face" before she said it), Offset's mama does know best. The Centers for Disease Control and Prevention (CDC) advises against drinking any alcohol while pregnant, as it can cause a number of fetal alcohol spectrum disorders. "There is no known safe amount of alcohol use during pregnancy or while trying to get pregnant. There is also no safe time during pregnancy to drink," the CDC explains on its website. "All types of alcohol are equally harmful, including all wines and beer."
The pictures from the Rolling Stone shoot turned out gorgeous — but Cardi's pregnancy took a toll on her as the shoot progressed. In an Instagram post, Cardi revealed that she passed out while on set. She wrote:
On the last look we did we couldn't take a lot of pics and we had to wrap up the shoot cause I got so lightheaded and passed out on Offset arms 😰. My baby don't like when I stand up straight for more then 20 seconds, I automatically get lightheaded. Ladies did that ever happened to you while pregnant ?🤔it's the weirdest thing.
Despite the less-than-comfortable pregnancy, Cardi told Rolling Stone she is looking forward to welcoming her baby daughter — a sentiment she and Offset have expressed several times over the past few months. Shortly after announcing her pregnancy, Cardi appeared on Power 105.1's radio show The Breakfast Club. When discussing her choice to have a baby at the height of her career, she told the radio show, according to People:
And it's just like, You know what? I'm a grown woman. I'm 25 years old. I'm gonna say this in the most humblest way … I'm a schmillionaire, you know what I'm saying? And I'm prepared for this.
And when Cardi confirmed her pregnancy during a Saturday Night Live performance in April, Offset tweeted, "Cardi and I look forward to our next chapter together."
It's clear that Cardi B and Offset are over-the-moon excited to start their family — and in the meantime, throwing the baby shower of the year should keep them plenty busy.