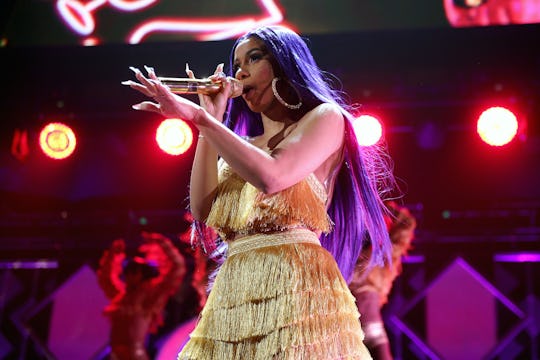 Rich Fury/Getty Images Entertainment/Getty Images
Cardi B's First Photo Of Baby Kulture Finally Dropped & Fans Are In Love
If you've been keeping up with Cardi B over the past five months, then you know that the new mom is notorious about maintaining her baby's privacy. People have seen snippets of baby Kulture in Instagram videos or stories, but never a full photo — until now. Cardi B dropped her first photo of baby Kulture and fans everywhere are in love!
On July 10, 2018, Cardi B gave birth to her first child, Kulture Kiara Cephus, with fellow rapper Offset. The couple were previously married, but unfortunately announced their split on Tuesday, as reported by TMZ.
Fans were worried about how Cardi B was handling the split, but it seems that the new mom is going to be just fine. On Wednesday evening, Cardi B uploaded an adorable photo of her daughter on Instagram, captioned, "My heart."
In it, Cardi B's little girl is dressed in a cute, pink outfit with adorable bib with her name, Kulture, written across it. This is the first time Cardi B has ever seen her baby's face online and fans were quick to comment under the upload.
"She's a beautiful baby girl! Precious," one fan commented, while another added, "Ahh finally!! She's so cute."
One fan captured everyone's emotions, commenting, "Yayayayayayayayayaya! We finally get to see your little beauty."
Beyond commenting on Instagram, fans took to Twitter to share exactly how they felt about the new picture of baby Kulture.
"I CAME BACK TO LET Y'ALL KNOW THAT KULTURE IS THE MOST PRECIOUS, CUTEST, BEAUTIFUL BABY EVER," one fan said.
"Omg Kulture just really made my ovaries explode... she's a beautiful baby," another fan tweeted.
Back in August, Cardi B did speak a little about her baby's looks, telling fans on Instagram that her daughter resembled her sister, Hennessy. According to Rollingout, Cardi B uploaded a video montage on Instagram of her and her sister made by a fan, writing, "Saw this on my explore page My sistuuurr!! My daughter looks like her @hennessycarolina."
Mothers definitely know their kids best, because it seems that Cardi B's comparison was spot on. Fans were quick to comment on Kulture's striking resemblance to her auntie.
"Kulture looks like her auntie. She's a peach," one user said.
A second user tweeted, "Kulture looks like her Auntie for real."
"Cardi really wasn't lying when she said Kulture looks like her auntie, Hennessy," one fan tweeted, adding a side by side photo comparison of Kulture and her auntie.
Another fan posted a screenshot of trends, with baby Kulture at number one. "No. 1 trend and 1.5 mil likes in 20min. Kulture is a legend already," the fan said.
It seems that at the tender age of five months, baby Kulture has already managed to break the internet. Fans are definitely going to be looking forward to more updates of her!
If Cardi B decides to keep her daughter's face hidden again, fans will understand. But, these reactions make it clear that they think Kulture is absolutely adorable, and have fallen in love with her already.
This first-time mom wants to have a home birth, but is she ready? Watch how a doula supports a military mom who's determined to have a home birth in Episode One of Romper's Doula Diaries, Season Two, below. Visit Bustle Digital Group's YouTube page for the next three episodes, launching Mondays in December.