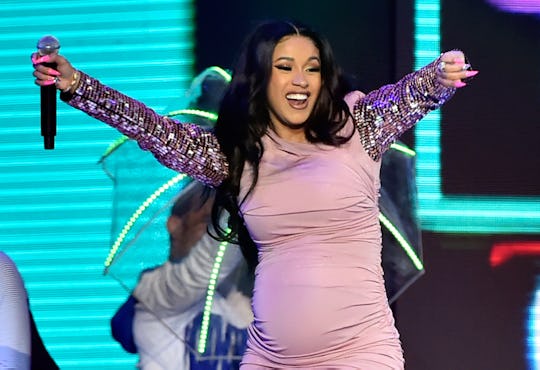 David Becker/Getty Images Entertainment/Getty Images
Get Pumped, Because Cardi B's First Televised Performance Post-Baby Is Happening SO Soon
Cardi B has been on maternity leave since she gave birth to her first child, daughter Kulture Kiari Cephus, in July. Over these last few months, she has had her hands full, of course, slowly making her return back into the public eye. But fans really should be getting excited, because Cardi B's first televised performance after giving birth is happening very soon, according to People, so get ready for what can only be an epic comeback.
Cardi B is reportedly performing at the 2018 American Music Awards (AMAs), airing on ABC, according to People. And don't worry, you won't have to wait forever to watch this epic performance. The awards show is airing on Tuesday, Oct. 9 at 8 p.m., according to ABC.
Representatives for Cardi B did not immediately respond to Romper's request regarding the upcoming performance.
While every performance that Cardi B puts on is such a blast, this performance might be one of her most special performances yet. This is because it will be the first time that she will be performing for millions of people since welcoming her daughter, according to People. Talk about some performance anxiety.
But it's likely that Cardi B, who always puts on an amazing performance, won't be phased by this at all. The woman knows how to put on a very good show. And since she is reportedly performing her song "I Like It" with J. Balvin and Bad Bunny, according to People, fans know that this performance is going to be worth the hype.
Although this is going to be the first time since Cardi B has made her solo return to the stage (and had the performance broadcast, nonetheless), it technically isn't the first time that Cardi B has performed since giving birth. On Aug. 25, the rapper and new mom made a surprise appearance at the TIDAL X: Brooklyn concert where she joined husband, Offset, and his rap group, Migos, for a performance of their song, "Motorsport," according to Billboard. During the song, Cardi B rapped her verse, much to the delight of the crowd.
But, people who weren't lucky enough to score a ticket to the show (or have a friend who did and posted videos of the performance to Instagram after) missed out. This is why Cardi B's reported performance in two weeks will be so exciting — because everyone will get a chance to watch her do her thing since becoming a mom. And who wouldn't want that?
It's understandable for fans to be apprehensive about this performance. In August, fans were teased with a Cardi B performance at the 2018 MTV Video Music Awards (VMAs) when it was reported that Cardi B would open the show. But instead of a performance, fans were greeted by Cardi B holding a bundled up "baby" which many people thought was Kulture.
But once Cardi B unwrapped the bundle in her hands, fans could clearly see that she was holding one of the awards given out at the VMAs, not Kulture, according to Rolling Stone.
Viewers at home were a little disappointed, to say the least.
But now they have no reason to be upset with Cardi B returning to an awards show stage a little over a month later. And this time, instead of teasing fans with a glimpse of her baby, she will be performing "I Like It," which Rolling Stone called "the song of the summer".
But Cardi B won't be the only one performing at the 2018 AMAs. Stars like Mariah Carey, Halsey, Post Malone, and Carrie Underwood (who is currently pregnant with her second child, according to the Daily Mail) are also set to take the stage and perform at the show in two weeks, according to Billboard.
If news of Cardi B's performance didn't already get people excited to tune into the show, then seeing Underwood perform on stage after announcing her second pregnancy should do the trick.