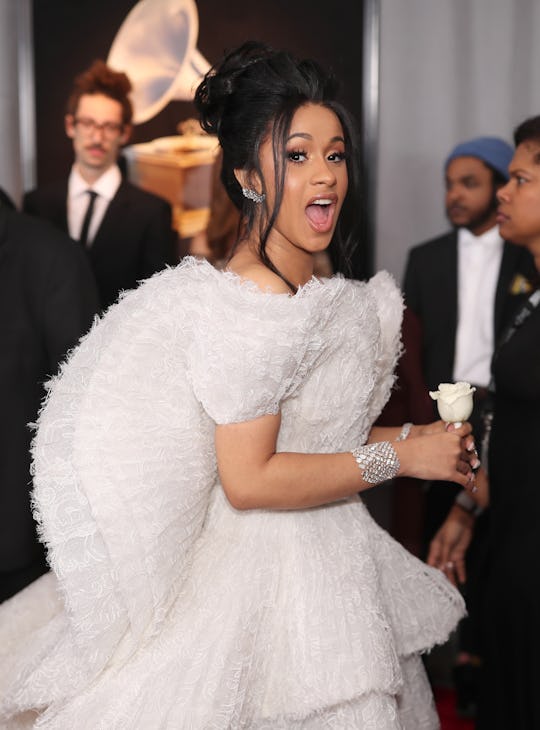 Christopher Polk/Getty Images Entertainment/Getty Images
Twitter Had A Lot Of Fun With Cardi B's Grammys Red Carpet Look
There are few people in entertainment today who make me smile so consistently as Cardi B, who never ceases to be exactly herself, even on music's biggest night. Cardi B's Grammys red carpet look is so extra and Twitter is loving it. My new mantra is to live every day like I am Cardi B at the Grammys. Being interviewed by Giuliana Rancic, the first thing Cardi said was that she was feeling butterflies in her stomach and in her vagina. I am obsessed. She was also wearing a "look," which everybody on Twitter had a lot of opinions about.
Cardi B is nominated for her first Grammy awards for Best Rap Song and Best Rap Performance for "Bodak Yellow." If you're not humming "these is red bottom, these is money shoes," in your head right now, I don't know how to help you. Cardi is an extremely big deal right now. "Bodak Yellow" spent three weeks on the Billboard Hot 100, a record length of time for a female solo rapper. Oh yeah, and she's from the Bronx, which is very clear within moments of her opening her mouth. Not only were people on Twitter obsessed with her interview, they were obsessed with figuring out what she looked like in that enormous white dress.
In a large, snowy white dress covered in ruffles and flounces, some people believed that she looked like some sort of musical fairy. Or the tooth fairy.
Other people were of the opinion that she looked more like a bit of precious and unique winter precipitation.
Other people thought her look was more Bjork 2001. That is, the feathery frock reminded some people of a swan. I mean, I have to admit with the wing-like back I was definitely getting some sexy Black Swan vibes myself.
Still more people thought that her look was simply divine. In that they compared her look to that of a literal angel coming down from heaven to bless all us mere mortals with her New York City realness. Yes, I am in for this religion.
Still others were even more specific with what kind of angel Cardi B was dressed as. I mean, it doesn't get much more accurate than "marshmallow angel."
Another Twitter user compared Cardi's look to a quinceañera dress — referencing the Latin American tradition in which girls get a huge party for their 15th birthday. I mean, fair enough but I don't know any 15-year-old with a dress that over-the-top and fancy.
Regardless of how you feel about Cardi's look, you have to agree that she is one of the most charming and likable stars on the red carpet. For instance, she brought her sister Hennessy with her as her plus one, which is really nice to see. The two of them coordinated their glam. Cardi also gave some straight, no-nonsense advice to other women and girls who want to succeed the way that she did.
In her interview with Giuliana Rancic on the E! red carpet, Cardi said, "Do whatever you have to do." She went on, "People always wanna tell you how to do it. No — do it your way." She cites herself as an example. Going from just a "regular" girl from the Bronx, Cardi B. made it all the way to the music big leagues after starring on Love & Hip Hop and now she's being honored at the Grammys. I would just like more Cardi B. in all things please.
Check out Romper's new video series, Romper's Doula Diaries:
Watch full episodes of Romper's Doula Diaries on Facebook Watch.