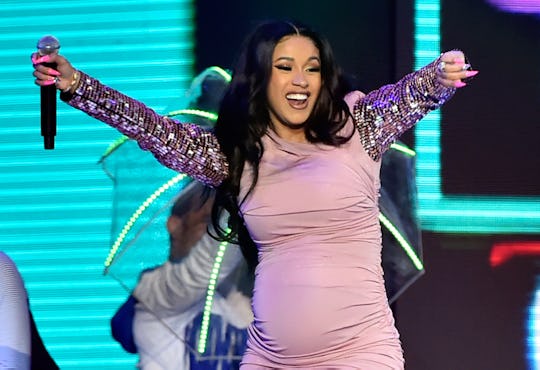 David Becker/Getty Images Entertainment/Getty Images
Cardi B Is Keeping It Very Real When It Comes To Her Postpartum Emotions
Anyone who has followed Cardi B's success story — and in particular, her social media accounts — knows that the young rapper doesn't sugarcoat anything. In fact, it's her brutal honesty about life, love, haters, and more that never ceases to be a fresh breath of air in the otherwise staged atmosphere of social media. When Cardi B became a mother, fans were likely thrilled that the singer continued with her quirky and honest-as-hell updates. And most recently, Cardi B's latest Instagram story gets refreshingly honest about postpartum emotions.
As E! Online reported, Cardi B and her husband, Offset, welcomed their first child together on July 10 — a baby girl they named Kulture Kiari Cephus. This puts their baby girl at just shy of 1 month old at this point. Seasoned parents might remember, this is basically in the thick of newborn-induced sleep deprivation, and for many moms, what's referred to as the "baby blues." Basically, new moms often feel overwhelmed/emotional/anxious in the weeks following childbirth — and things like hormones, and other physical changes are mostly to blame. Cardi B seems to be no exception to this common (yet often frustrating) experience. That's because on Tuesday, the new mom shared an Instagram Story lamenting just this, Us Weekly reported. "This postpartum sh*t is annoying," she wrote. "Like I been emotional all f*king day for no reason."
Obviously, followers can't comment directly on an Instagram Story. But I'm pretty sure moms everywhere are feeling this sentiment pretty hard. Because those first few weeks can be incredibly tough on new parents — and especially for new moms as their bodies are still recovering, they're trying to adjust to their new normal, and their hormone levels are all out of whack. (I remember crying in the shower at just the thought of any harm possibly coming to my baby.) The struggle is real, folks.
Since the birth of her baby girl, Kulture, Cardi B hasn't shied away from keeping it real when it comes to the challenges of new motherhood. ET Online reported the new mom took to Instagram to celebrate her whopping 10 MTV Video Music Award nominations. However, instead of appearing in the video — because the toll of new motherhood had apparently left her looking pretty rough — she "talked" through a doll. "It's your girl Cardi B. I wish I could show my face right now, but a bitch looks f—kid up in the game," she explained at the time. "My hair's f*cked up. My eyes are so dark and puffy. Like, I'm wild pale." LOL. Cardi B continued:
Let me tell you something. No matter how many books you read or advice I get, ya'll never be read for mommy mode.
This. So this.
Once they managed to stop laughing at her antics with the doll, plenty of Cardi B's followers shared their renewed love for the singer's honesty. "The realest celeb mum ever," one follower declared.
Another person commented, "Lol I can't with the doll! But you right you will never be ready."
Yet another follower wrote, "Howling 😂😂😂😂 I have 3 girls 10, 4 and 3 years and a Bitch still looking fucked up in the game. Love the way u tell it as it is."
On July 26, Cardi B announced that she had made the decision to pull out of her scheduled tour with Bruno Mars, E! Online reported. The new mom explained via social media the reasoning behind her tough choice. "It thought that after giving birth to my daughter that 6 weeks would be enough time for me to recover mentally and physically," she wrote. "I also thought that I'd be able to bring her with me on tour, but I think I underestimated this whole mommy thing. Not only am I just not ready physically, I'm not ready to leave my baby behind since the doctors explained it's not healthy for her to be on the road. I hope you guys understand that this decision has been the hardest to make but I have to do what's best for myself and my baby!"
So yeah. I'd like to personally give a shout-out to Cardi B for continuing to keep it real when it comes to motherhood, through all the highs and the lows. Because people need to know that having a baby isn't all rainbows and butterflies. With the responsibility of motherhood often comes some serious mental and physical struggles — and while the hormone-induced emotional rollercoaster often subsides in time, being in the thick of it can be a wild ride. As always, thanks for your honesty, Cardi B.