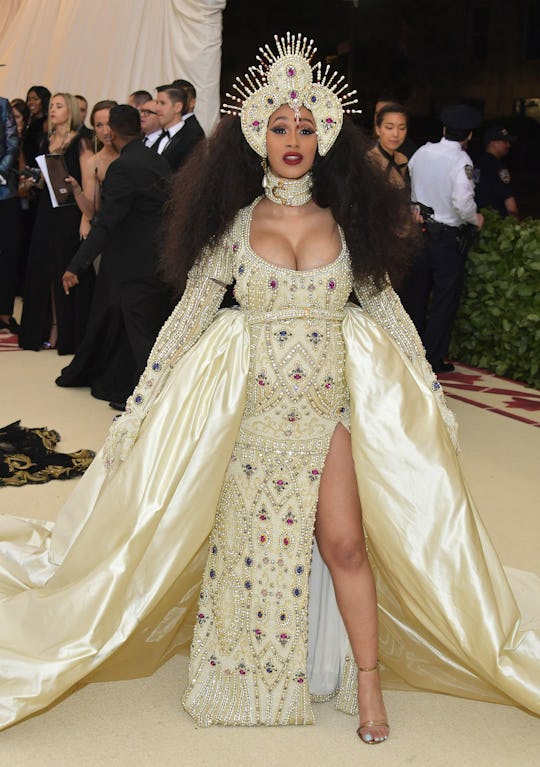 Neilson Barnard/Getty Images Entertainment/Getty Images
Cardi B's Met Gala Maternity Look Was A Freaking Miracle
The 2018 Met Gala arrived with all the fanfare of the Pope-mobile, and celebrities did their best to pull off their own takes on the theme, "Heavenly Bodies: Fashion and the Catholic Imagination." And when a certain pregnant rapper arrived, she put everyone else's best efforts to shame. Yes, Cardi B's Met Gala maternity look proved pregnancy is a look too fierce for any red carpet. And that's the truth.
It's only been a month since Cardi B's pregnancy became public knowledge, and she didn't even have to say the words "I'm pregnant," to make it happen. Appearing on Saturday Night Live on April 7, 2018, the mom-to-be simply wore a form-fitting white dress that perfectly showed off her pregnancy bump, then proceeded to smash her way through two numbers. Of course, plenty of people have since criticized the rapper's pregnancy, tearing her down at what should be a happy moment in her life. Fortunately, Cardi B has been able to ignore all the haters, and her arrival at the 2018 Met Gala is proof of that.
Actually, it's proof of something more: that being pregnant doesn't mean you can't live your own life, and go to fabulous events wearing seriously chic outfits. Just look at what Cardi B is wearing, it's seriously goals.
Seriously, the 25-year-old looked absolutely stunning in a Moschino gown, designed by the one and only Jeremy Scott, per People. And people on Twitter definitely took notice of how fierce Cardi B looked, which was totally deserved. The rapper had never been to the Met Gala before Monday night, but you wouldn't know it based on her fabulous dress and gorgeous smile. Oh, and her clear confidence? That's something money can't buy, but Cardi B's money moves have clearly gotten her far.
So far, in fact, that Scott himself decided to show off the glowing masterpiece that Cardi B is with an Instagram Story video showing off the look she was wearing Monday night. And honestly, the close-up video of all the amazing details of Cardi B's ensemble was totally worth the watch.
Seriously, for any pregnant woman who is unsure whether or not to attend an upcoming event, let Cardi B be the inspiration you need to go for it.
Now, it's worth noting that Cardi B is a mega-successful artist, and she likely has a team of people working to make her look good and feel good, so her Met Gala look might not be the most realistic for the everyday pregnant woman. But nevertheless, it's clear that she's feeling good, and that's pretty powerful.
But other than her Met Gala look, Cardi B has been a pretty inspirational figure for pregnant women lately. After haters started filling her inbox and comment sections when her pregnancy was made public, the rapper decided to say something about it. In a now-deleted Instagram Stories post, according to E! News, Cardi B wrote,
This is why I did not wanted to say nothing,. People be so thirsty to scrutinize and try to destroy something that it suppose to be a blessing.
She made a great point, then, and pregnant women everywhere could totally relate to her post. And again, the day after her SNL performance, the mom-to-be took to Twitter to express her joy at having a baby, despite all the haters. "I started winning when the whole world was doubting on me!" she tweeted, continuing, "Think imma lose with my little baby counting on me?" Clearly the record-breaking rapper is read for motherhood, and the fact that she can rock a couture gown while several months pregnant? That just makes her even more admirable.