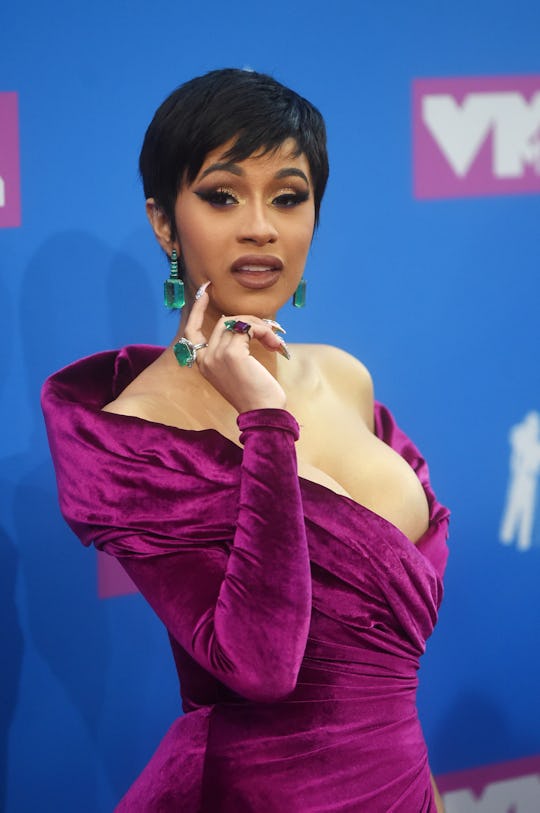 Jamie McCarthy/Getty Images Entertainment/Getty Images
Cardi B Shared A New Glimpse Of Baby Kulture & Yup, It's As Cute As You'd Expect
Since the July birth of Cardi B's first child with her husband, Offset, fans have been dying to get a first glimpse of their baby girl. However, it's become clear that the "Bodak Yellow" rapper has no intention of sharing her daughter's face anytime soon. In what seems to be a growing trend during this age of social-media-addicted fans, Cardi B is among the celebrities making it a point to maintain their kids' privacy. (Meaning, no identifying photos or videos of their kiddos. At all.) However, many celebs still manage to find clever ways of including their children on Instagram — without showing their faces. And Cardi B's new photo of baby Kulture is pretty much the sweetest thing.
On Sunday evening, the new mom took to Instagram to share a sweet moment with her followers, E! News reported. Alongside a photo of her baby girl's tiny hands, Cardi B wrote, "I needed a girl like you.🎀KK." As you can probably imagine, the singer's followers promptly exploded with a collective, "Awwww." One Instagram user wrote, "O look at those sweet blessed baby hands❤"
Another follower commented, "Awww @iamcardib u make my heart melt lil mamma."
Yet another person chimed in with, "Aw I'm about to cry this is really sweet."
Still, others were practically begging to see a full shot of baby Kulture — and not just her precious, chubby hands. One Instagram use wrote, "Show your baby on your instagram plz cardi we all love u but show your baby."
Another person wrote, "We wanna see ur baby I come on ur page looking for kulture everyday 🧐."
Whether or not Cardi B and Offset's fans agree with their choice to keep Kulture out of the spotlight, it doesn't seem as if it's going to change anytime soon. (So fans might as well enjoy any little snippets of the pair's daughter that comes their way, right?) At least one of Cari B's Instagram followers seems to get it. This understanding fan wrote, "I hope you never show your baby..people have to understand that just because you in the public eye doesn't mean everything is for us to see or know, that baby is precious,& she is yours, yours I'm a fan wether I see her or not @iamcardib."
In a double dose of rare cuteness, Offset also shared a little bit of baby Kulture on Sunday — with a video clip on his Instagram Story showing his daughter's feet and kicking legs. He captioned the video simply with, "KK" and a purple heart. (Soooo sweet!)
If you remember, Cardi B actually shared her first-ever glimpse of baby Kulture back in August, according to the Daily Mail. And by "glimpse," I mean a teeny portion of the newborn's white hat and forehead as Offset holds her and Cardi B looks on lovingly. (In addition to protecting her daughter's privacy, I have a feeling Cardi is low-key amused by posting these sort-of-not photos of Kulture.)
Because Cardi B and Offset have remained so private about their relationship, the pregnancy, and now their new baby girl, the fact that the new mom appeared to be holding Kulture onstage at the MTV Video Music Awards on Aug. 20 was shocking to most. However, when Cardi B unwrapped the blanket, it was actually a Moon Person trophy that she was cradling. and not her baby girl, People reported. The gag, while cute and funny to most, apparently freaked out Offset — who wasn't in on the joke.
Cardi B took to Instagram a few hours after the VMAs intro to share that her husband was definitely not impressed. "Set said i was sooo mad, when i saw you on stage with that blanket I thought you was going to show Kulture," Cardi tweeted during the early morning hours of Aug. 21. (LOL. Poor Offset.)
When it comes down to it, parents have every right to decide for themselves whether or not to share photos of children online. And just because both parents happen to be celebrities, doesn't mean they are under any obligation to do so. End of story. Besides, between her all-too-relatable tweets and quirky Instagram photos/videos about Kulture, fans already have a pretty intimate look into Cardi B's life as a new mom. And that should be more than enough.