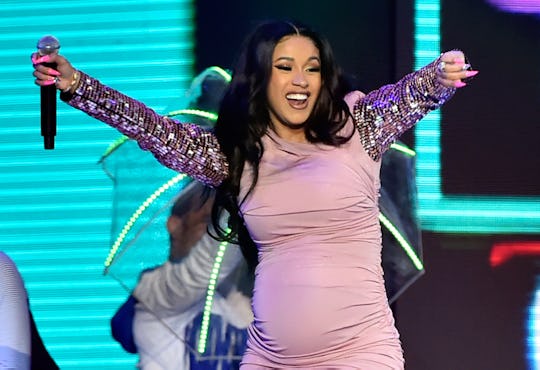 David Becker/Getty Images Entertainment/Getty Images
Cardi B's Newest Bump Photo In Her Third Trimester Is As ~*Magical*~ As You'd Expect
It wasn't too long ago that Cardi B deleted her Instagram account, following a feud with Azalea Banks, and said she just wanted to enjoy the months few months of her pregnancy. But just a few days later she was back, and fans are so happy that she is, because nobody would want to miss Cardi B's newest bump photo, as a playful unicorn. The rapper is in her third trimester now and having as much fun as ever as she nears her due date, as she proved today.
On Thursday, the mom-to-be made herself into a rainbow unicorn with a colorful wig and heels, chunky jewelry, and a curve-hugging white dress showing off a growing bump. "Big Momma," she captioned the photo. Fans were so thrilled with the creativity and fun all compacted in just that one photo that they've come to love from music's latest queen.
One fan commented, "girl, you are too cute!! Love the hair, the hair color, the dress, and that glow of happiness is EVERYTHING on you!!" Another commented, "Wow. Literally so stunning💓 im so happy for you😘." Yet another chimed in to pay her this compliment: "I wish you were my mom."
It's hard to believe the 25-year-old singer is almost due already, since she only confirmed her pregnancy in April during an appearance on Saturday Night Live. According to Rolling Stone, the camera held a tight shot on the upper half of Cardi B's body during the beginning of her performance of "Be Careful." During the song the camera pulled back, revealing a tight white dress that highlighted her bump, the publication explained. Earlier in the show the singer had covered up with a coat during her performance to maintain the secret.
Though people were still taking their guesses about the baby-to-be's sex in Cardi B's latest bump photo, she actually cleared all that up last month. After some speculation and a few hints dropped by Cardi B herself, the rapper put any questions to rest and finally confirmed that she's expecting a baby girl, according to People.
During an appearance on The Howard Stern Show, as People reported, which was when Cardi B confirmed the baby's sex, she also gave an update on her little girl. "Shorty weighs three and a half pounds. She do. She do weigh three and a half pounds. That's pretty good for seven months, right? Because I was born five pounds," she said according to People.
Throughout her pregnancy, Cardi B has been working hard. She's signed on for dates with Bruno Mars' tour and also is scheduled for several music festivals in July, according to her website, though she's taken some much-deserved time off from other performances while she waits for her baby to arrive, as Us Weekly reported.
Her busy schedule is one reason she's in no rush to run down the aisle with fiancé, and father of her baby, Offset. The couple got engaged in October 2017 when he proposed during a concert in Philadelphia, according to Us Weekly. But she told Howard Stern that her career and the baby have, understandably, put wedding planning on hold for now. "People that don't have this job wouldn't understand…truth of the matter is that it's hard to plan a wedding right now," she told Stern, according to E! News. "First I'm not having a wedding pregnant. I want to wear my dream dress and I want to get drunk on my wedding and I want to go on a honeymoon and I want to be drunk for a whole week."
While her daughter is expected to arrive in a matter of weeks now — she's reportedly due sometime in July, according to The Cut — hopefully she'll keep documenting her pregnancy and share a few adorable snaps like the ~*magical*~ one today.