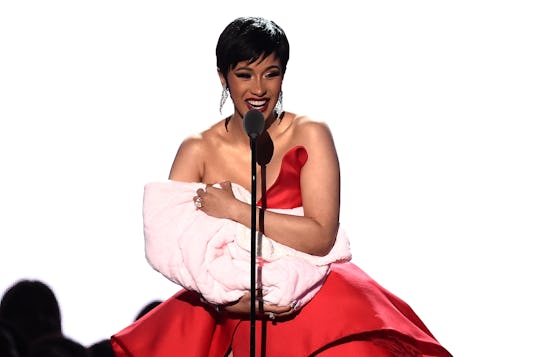 Michael Loccisano/Getty Images Entertainment/Getty Images
Cardi B Had Everyone On The Edges Of Their Seat With Her Opening At The 2018 VMAs
Cardi B's return to the stage on Monday night was so exciting. After taking a break from performing due to her pregnancy and the birth of her daughter in July, fans were so grateful to see Cardi B back on their TV screens when she opened the 2018 MTV Video Music Awards. And let's just say, Cardi B's opening at the 2018 VMAs was just as surprising as fans expected it to be — with tricks and all!
Just five days before the VMAs aired, it was announced that Cardi B would make her grand return to MTV by opening the 2018 VMAs, according to Rolling Stone, but it was a little unclear what that "opening" would entail. It was reported hours before the show aired that Cardi B wasn't going to perform music — rather, she would be "performing a monologue or partaking in a skit," according to TMZ. The show's executive producer, Bruce Gilmer, was just as secretive about the performance, hinting to Us Weekly that something about Cardi B opening the show could be a little unconventional.
"Cardi B is going to surprise everyone and what she does will please the fans," Gilmer told Us Weekly. "We want to surprise the fans."
Fans were definitely surprised when Cardi B changed her outfit from the one she was wearing on the red carpet and showed up on stage holding a bundled up pink blanket. "I am the empress," Cardi B said on stage, according to ABC News. "The liberals voted for me."
Since Cardi B gave birth to her baby girl last month, people automatically assumed that Kulture was in that bundle. And when Cardi B unwrapped the blanket, she revealed that she was holding a moon man — aka the award handed out each year at the VMAs — in the blanket, and not her baby girl. But Cardi B didn't give fans much of a chance to react, according to TIME, because the second she revealed the moon man, she introduced performer Shawn Mendes. It was a blink-and-you'll-miss-it kind of opener.
Fans took to Twitter immediately after to react to her opening that entailed a decoy baby Kulture.
Sure, her opening wasn't what fans suspected it would be, but at this point, fans should respect Cardi B's decision to not perform or bring her newborn on stage. Cardi B only gave birth one month and 10 days ago, according to Vogue, so for her to jump back into work so quickly is really such a huge accomplishment.
And people on Twitter definitely took note of that.
When Cardi B announced that she would not be going on tour with Bruno Mars this fall, fans were just a little disappointed. So many people had expected to see the rapper performing her hit songs off of her album, Invasion of Privacy, on stage, according to People. But Cardi B apologized to fans in a statement on social media, telling them that she had to focus on her recovery after having a baby. Cardi B wrote in a statement, shared on her Instagram account:
Not only am I just not ready physically, I'm not ready to leave my baby behind since doctors explained it's not healthy for her to be on the road. I hope you guys understand that this decision has been the hardest to make but I have to do what's best for myself and my baby!
That was so understandable. And Cardi B's opening at this year's VMAs is just a continuation of that — doing what is best for herself and her baby.
This opening was not something that fans had seen from Cardi B before and was nothing like the last time she opened the 2017 VMAs just one year ago. Last year, Cardi B took to the VMA pre-show where she performed her hit song "Bodak Yellow" just steps away from celebrities walking the red carpet, according to XXL.
But now, a year later, people are a lot more familiar with the rapper after her debut album, Invasion of Privacy, debuted at number one on the Billboard 200 chart and her songs practically took over the radio this summer. Because Cardi B has grown so much as a celebrity in the past year, it makes sense why she might want to shake things up a bit for her appearance at the VMAs this year.
The great news is, fans were more than happy with her decision to not perform a song and open up the show her own hilarious way, instead.