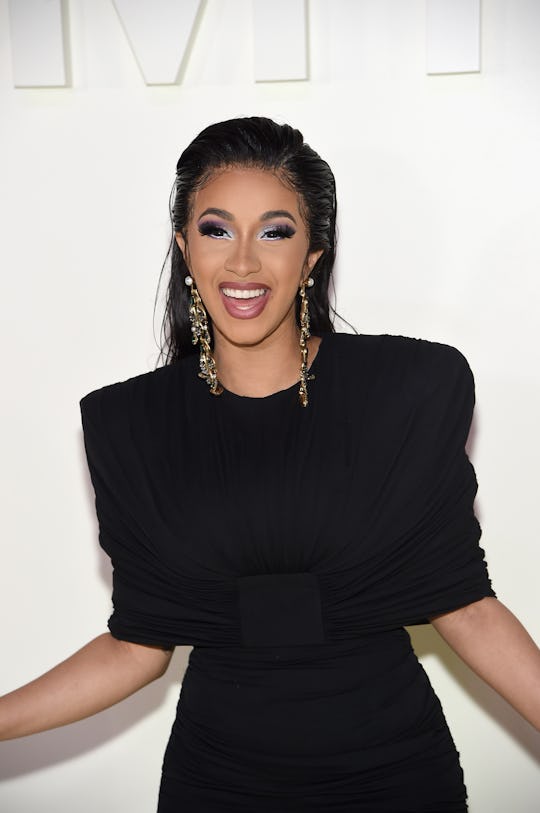 Jamie McCarthy/Getty Images Entertainment/Getty Images
Cardi B's Post-Baby Boob Hack With Duct Tape Hilariously Channels Kim Kardashian
As seasoned moms know all too well, pregnancy has a way of running your breasts through the ringer. That's because one of the side effects of being with-child is breast changes — and growth — in preparation to feed a baby. (This happens whether or not a mom ultimately decides to breastfeed.) After the baby is born, milk production begins, further testing breasts' elasticity. When it's all said and done, it's normal for "the girls" to look a bit different than they did pre-pregnancy. And Cardi B's post-baby boob hack includes duct tape and hilariously channels the one and only Kim Kardashian
On Thursday, Sept. 27, the "Bodak Yellow" singer took to Instagram to share with her followers yet another relatable mom moment — dealing with saggy breasts. And Cardi B's solution is probably one you've seen before. Wearing nothing but a "bra" fashioned from duct tape, the new mom lamented about how her breasts have changed as a result of pregnancy and motherhood, as People reported. She captioned her blunt AF video with, "Kulture did me bad 😩." Carid B explained.
"Oh this sh*t is crazy. I have never done this sh*tin my life but f*ck it," the new mom continued. "I have to f*cking tape my titties up because son! Giving birth and sh*t, like my titties was already like a little low, low you know what I'm saying? Cause I got my tits done when I was 19 and I never wore a bra and sh*t so, you know what I'm saying?"
As always, Cardi B's Instagram followers seemed to get a kick out of her "titty renovation" honesty. "HEW😂, always keeping it real! 💯," one person commented.
Another Instagram user wrote, "She as real as it comes 😍."
Plenty of fans could also relate to the new mom's plight. One Instagram user wrote, "Hahaha 🙌🏽... word!! I think all is mamas can relate girl! #tapeittomakeitlol... duct tape fixes everything."
Another fellow mom commented, "😂😭😂😭😂😭😂 I'm dead it be like that... My daughter didn't do much damage but my son 😫 my shits it looking like orangutan titi's 😂😂😂."
Yet another follower advised, "You should've used medical tape..... that duct tape gonna hurt coming off.... omg. 😯"
For the record, those are my thoughts exactly — ouch! I can't imagine that removing a duct tape bra feels too great. Or in Kim Kardashian's case, gaffer's tape.
A couple years back, Kim K's similar makeshift bra collectively blew the internet's mind, according to BuzzFeed. Although Kardashian didn't specifically blame her children for taping up her boobs, you have to admit: It's a pretty clever way to perk up your breasts while rocking outfits with plunging necklines.
As Parents reported, a woman's breasts experience a number of changes during pregnancy — including getting bigger, feeling tender, getting more veiny, having enlarged and darker areolas, leaking colostrum, and possibly getting stretch marks. Although breasts (and nipples) tend to return to approximately their pre-pregnancy size after a woman weans — or allows her supply dry up — some of these pregnancy-induced side effects result in permanent changes to the girls.
"Because your skin has been stretched, the loose skin and stretch marks are most likely there to stay," according to Parents. "Instead of pining for your firmer, perkier, pre-preggo breasts, embrace your new set — they are the true mark of motherhood."
Still, I feel Cardi B so hard right now. Before I got pregnant and nursed three kids, my breasts were "barely Bs." Pregnancy made them fill out impressively. And breastfeeding? Holy rock-hard boobs! However, by the time I weaned each of my children, they were even smaller than when I started my motherhood journey. And they were, well, less than perky.
Because I'm a distance runner, I've learned to embrace my flat chest. (Honestly, having small boobs works in my favor for marathon running.) But in certain outfits, I can definitely see how lifting up the girls can help. So I'll definitely be keeping Cardi B's boob hack in mind for the future, except for one, small tweak: I'll be sure to use athletic tape instead of duct tape.