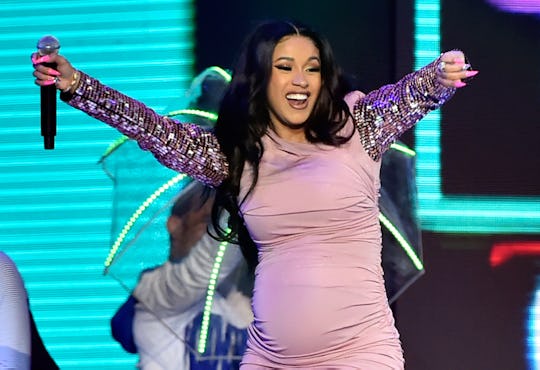 David Becker/Getty Images Entertainment/Getty Images
Cardi B's Realest Postpartum Moments Are Seriously A Service To Expecting Parents
As her fans have come to appreciate through her rise to fame, a Cardi B interview will never disappoint — because this charismatic rapper always tells it like it is. There is absolutely zero sugar-coating when it comes to the "Bodak Yellow" singer, whether it's in-person or on social media. That's just part of the reason her followers love her so much. Although at this point Cardi B is still on maternity leave with her baby girl, she has managed kept fans updated on her daily life via Twitter and Instagram. Fans are likely elated to see the rapper hasn't lost her honest AF approach since becoming a mother a few weeks ago. Because Cardi B's realest postpartum moments offer a no-filter glimpse into the challenges of motherhood.
Cardi B and her husband Offset welcomed their first child together on July 10 — a baby girl they named Kulture Kiari, Us Weekly reported. Which means baby Kulture is already 1 month old at this point. (Can you believe it? Time flies!) Although for new mom Cardi B, this past month probably seems like a lifetime because literally everything about her daily routine has drastically changed. As the new mom shared on her Instagram Story on Tuesday, Aug. 7, it seems as if the whiplash of postpartum homrones has been affecting her — and Cardi B is decidedly not a fan. "This postpartum sh*t is annoying," she wrote, according to ET Online. "Like I been emotional all f*king day for no reason." Poor mama. I've absolutely been there myself with the "baby blues," and so have the majority of other moms, according to BabyCenter.
On July 30, the new mom shared what many might consider a TMI photo of a common (yet gag-inducing) new parent disaster: The aftermath of a diaper blowout. Once again, Cardi B took to her Instagram Story to share her personal experience in this area — with the help a short clip of what looks like a poopy baby blanket. Along with some fittingly dramatic music playing in the background, the clip zoomed in on the soiled blanket. The rapper also included some bummed-out/exasperated-looking emojis for good measure. (Gross, right?) Unfortunately, dealing with and cleaning up poop — and often from places that aren't diapers — is a regular part of parenting. And since Cardi B doesn't make it a habit of skipping over the sh*tty parts of life, there it is.
Another real eye-opener of a post came on July 26, when Cardi B announced via social media that she had decided to pull out of the Bruno Mars tour, The Washington Post reported. "As of today I've decided I won't be joining Bruno on tour this Fall," she shared on Twitter and Instagram at the time. "I thought that after giving birth to my daughter that 6 weeks would be enough time for me to recover mentally and physically. I also thought that I'd be able to bring her with me on tour, but I think I underestimated this whole mommy thing. I hope you guys understand that this decision has been the hardest to make but I have to do what's best for myself and my baby!" This one shows another important new-parent reality: More often than not, you don't realize the full impact a child is going to have on your life until after the fact. Which isn't super convenient for planning things like a concert tour. But that's life.
During her first month as a mother, Cardi B has also been frank about her baby's lack of sleeping at night. "The fact that KK was up all night and fell asleep at 8:30am," she tweeted on July 31, along with sleeping and bummed-out emojis. "Me and my mom are beat right now." A week prior, the new mom had confessed via Twitter, "My baby don't sleep. Night or day." Poor Cardi. Those first few weeks can be so tough — especially when your newborn has her nights and days mixed up. (Sleep deprivation is no joke, folks.)
At the same time, though, Cardi has kept it real by professing the intense feelings of love she has for baby Kulture. "It's beautiful how fast mother instinct kicks in ...never wanna leave my baby side," she tweeted on July 22.
"God i love my baby," Cardi wrote via Twitter on July 29. "Such a innocent beautiful soul."
Through the highs and the lows, Cardi B is sharing it all with her social media followers. And while some followers might feel like she's being a downer when it comes to the not-so-not aspects of parenthood, I'm loving that she's keeping it real. Because someone has to warn parents-to-be what they're getting themselves into. And who can tell it more honestly than Cardi B?