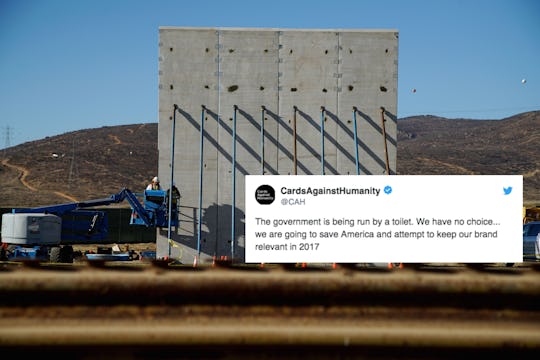 Sandy Huffaker/Getty Images News/Getty Images
Cards Against Humanity Buys Land Along U.S.-Mexico Border, & Issues The Most Badass Statement Ever
If you've ever played Cards Against Humanity, then you're probably already aware that it's not exactly your average party game. The so-called "party game for horrible people" is both totally inappropriate and completely hilarious, but the creators have also proven themselves to be masters of unexpected stunts which, while entertaining, also serve up some important social commentary. In 2015, for example, they let customers buy absolutely nothing from them for $5 on Black Friday, and they once also offered up Cards Against Humanity for Her, the exact same game in a pink box for $5 more ("Perfect for Margarita Nights!"). This year though, Cards Against Humanity bought a piece of land along the U.S.-Mexico border, and it might just be the company's best move yet.
Cards Against Humanity has made no secret of its disdain for President Donald Trump — last year, the company took a tongue-in-cheek shot at the election when it literally dug a giant hole in the middle of a plot of empty land, to reflect the fact that "everything in America is going really well" — but this year, they're clearly taking a much bolder stance after spending a year in Trump's America. According to Mashable, the company announced Tuesday that for this year's holiday stunt, they actually purchased a plot of vacant land on the border in order to complicate Trump's plan to build a giant border wall as part of his immigration policy, and unsurprisingly, people are loving it.
As ridiculous as the plan might sound at first, as with all of the Cards Against Humanity stunts, it really just becomes more and more low-key brilliant the longer you actually think about it. And in a satirical video for the campaign — referred to as "Cards Against Humanity Saves America" — the company outlined it's plan:
On the first day of the campaign, Cards Against Humanity purchased acres of land on the US-Mexico border — and didn't build a wall on it. They retained a law firm to fight the United States government, and prevent them from ever building a wall.
The video then explained that by chipping in with $15 purchases, customers throughout the country would then "be given a small portion of the land," meaning that "the government would have to take [everyone] to court and fight in order to put up the wall." (See? Brilliant.)
In other words, this year's holiday stunt is basically one big middle finger to Trump's plan, which does, in fact, appear to be moving forward. According to The Independent, contractors have already built eight border wall prototypes for the $21.6 billion, three-year project — which may be one reason why Cards Against Humanity ultimately opted to take aim against it. Calling Trump a "preposterous golem who is afraid of Mexicans," and arguing that "the government is being run by a toilet," Cards Against Humanity said that this year's holiday stunt was it's way of saving the country from "injustice, lies, racism, the whole enchilada."
In addition to partial land ownership, each customer will also receive "six America-saving surprises right to your doorstep" in return for their $15 payment. And although the campaign's FAQ notes that the surprises "contain no sexual content, graphic violence, or footage of Donald Trump watching Russian prostitutes urinate on a bed Obama slept in," it does warn that Trump supporters "might want to sit this one out."
Unsurprisingly, the campaign has been a huge hit on social media since it was first announced:
So much so that the campaign has already sold out:
Of course, not everyone is going to appreciate the Cards Against Humanity stunt, and it's an issue that is actually addressed on the campaign's website. For anyone who might prefer that the company stay out of politics, Cards Against Humanity has one simple (and characteristically-inappropriate) answer: "Why don't you stick to seeing how many Hot Wheels cars you can fit up your a*shole?"
As an independently-owned company not beholden to suppliers, Cards Against Humanity has already made it very clear that it has no problem going against the grain (this is also the company that from the get-go has been more than happy to allow people to make their own Cards Against Humanity game at home by downloading a PDF version and printing it out). And now it seems that it also has no problem taking on the POTUS as well.
It's not yet clear exactly what impact the campaign will have, or whether it actually can prevent the government from building the wall as planned. But given the excitement surrounding the announcement, it seems that an awful lot of Americans are totally on board to see how far Cards Against Humanity Saves America can actually go. (And hey, even if it fails, it will at least be a better outcome than in 2014, when the company literally sent out boxes of poop for $6 a piece, right?)