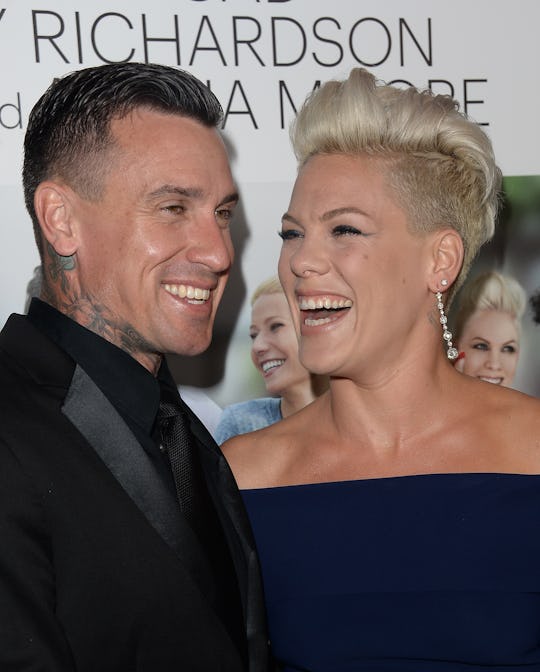 Jason Merritt/Getty Images Entertainment/Getty Images
Carey Hart Brings His Son To Work & It's Too Cute
Pink's newborn is getting an early lesson in the art of multitasking after her hubby, Carey Hart, brought their 8-week-old son to his motorcycle shop. The 41-year-old dad of two shared an adorable photo, snapped by his superstar wife, of himself with the pair's newborn son, Jameson Moon, getting in some quality father-son time. In the sweet shot, the retired motocross racer converts his shop's motorcycle lift into a changing table as his little boy looks at him endearingly.
"Jamo putting in some shop time with pop yesterday," Hart captioned the photo of his son lying face up on a blue towel, along with two thumbs up emoji. "My motorcycle lift doubles well as a changing table!!" The proud papa completed the post with a shout out to Jameson's mom for catching the candidly cute moment on camera and added the hashtag, "#GetThemStartedYoung."
With more than 36,000 likes and hundreds of comments in less than a day, Hart's followers simply could not get over the cuteness. One user commented the moment could be dubbed, "Daddy Day Care," while others wrote that the way Jameson lovingly stares at his dad is "the look of trust."
The 37-year-old singer and her husband welcomed Jameson, their second child, on the day after Christmas last year and ever since he made his debut, the proud parents have been happily showing him off on social media.
Hart's Instagram account is sprinkled with adorable shots of his newborn and 5-year-old daughter, Willow Sage. Just last week, for instance, he shared a hilarious photo of his baby boy sucking on a silly pacifier styled with a handlebar mustache. "This dude knows how to party," Hart captioned the photo of baby Jameson propped up on his legs.
Of course, with a name like Jameson, Hart wouldn't miss the opportunity for a little word play. In another adorable father-son photo op posted last week, Hart is holding his sleeping little boy while he enjoys a glass of Irish whiskey. "A little Jameson with little Jameson," the funny dad captioned the sweet black and white shot, adding the hashtags "#MyBoy" and "#MamaCookedAGoodOne."
Hart clearly has this whole multitasking skill while parenting down to a science. And it makes sense that fatherhood suits him well the second time around considering that Pink told Ellen DeGeneres last May that Hart is "an incredible dad," according to Today.
And with these little glimpses into their family's beautiful life, it's safe to assume that's a pretty solid statement.