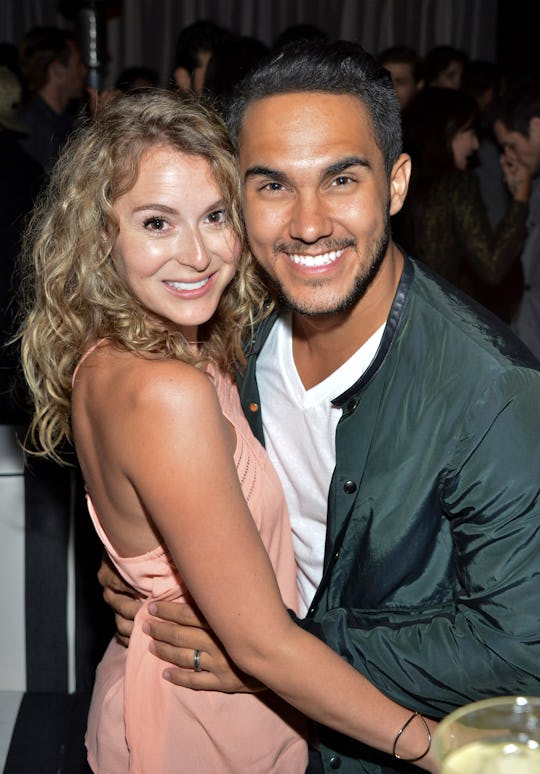 Araya Diaz/Getty Images Entertainment/Getty Images
Carlos & Alexa PenaVega Are Expecting Their First Child, & They Couldn't Look More Excited
Congratulations are due to the celebrity couple, Carlos and Alexa PenaVega! The Grease: Live! actor and his wife took to Instagram yesterday to announce the news. Carlos and Alexa PenaVega are expecting their first child, and they look absolutely thrilled.
According to US Weekly, this is the couple's first child after being engaged in 2013 and married in 2014 in a beautiful, luxe wedding at the Grand Velas resort on the Riviera Nayarit in Mexico. Alexa wore a stunning Eduardo Lucero dress for the occasion. In lieu of taking or giving up a name, the couple showed their ability to compromise by choosing to combine their last names, Pena and Vega, to make a new one: PenaVega. Just after the PenaVega's were engaged they spoke with People about their marriage philosophy. Alexa said, "If I've learned anything it's that relationships are about compromise."
They've been supporting each other in their exciting careers ever since. In fact, just after they were married they made history by being the first married couple to compete on Dancing with the Stars at the same time (unfortunately, neither of them won).
Fans of this fun-loving couple were thrilled to see their exciting announcement over social media. Carlos posted a photo of the himself and his wife holding a pregnancy test and glowing with happiness. He wrote alongside the photo:
Breaking news! It's#ClearblueConfirmed! There is going to be a new cool kid in town… And by cool I mean dorky just like their father. A little PenaVega is on the way!!! #ItsHappening#HolyWow #Imgoingtobeadaddy#clearbluepartner
Followers were quick to offer their congratulations to the parents-to-be. Instagram user king_espinosa123 wrote, "I'm crying I'm so happy for you it seems just yesterday you where on big time rush but your having a baby now I'm happy I'm crying😭❤." Another user, alessiaarmilleii, wrote, "Congratulations, can't wait to see the baby. I'm so happy!"
Alexa posted her own sweet Instagram announcement. In the photo, she's getting a kiss on the cheek from her husband, she looks perfectly blissful, and she's holding up the pregnancy test with its screen clearly visible. It reads, "Pregnant." As of Friday morning, the photo had 194k likes. She captioned the snap:
I cannot believe I finally get to say this … WE'RE PREGNANT!!! It's #ClearblueConfirmed that a little blessing is joining the PenaVega family!!! We can't wait!!!
This isn't the first time the couple has had kids on the brain. It's seems they've been thinking about growing their little family for a while now. Back in December, Carlos posted a photo of him and his wife enjoying a day at the beach. He wrote, "Oh and if you did not know this already @vegaalexa .. Our kids will have the curliest hair ever. #lexlos#bigtimespykidswithcurlyhairwhorunaroundthehousenaked"
The PenaVegas (and their fans) will know soon enough whether they have "#bigtimespykidswithcurlyhairwhorunaroundthehousenaked" or not, but as of now it seems very likely.