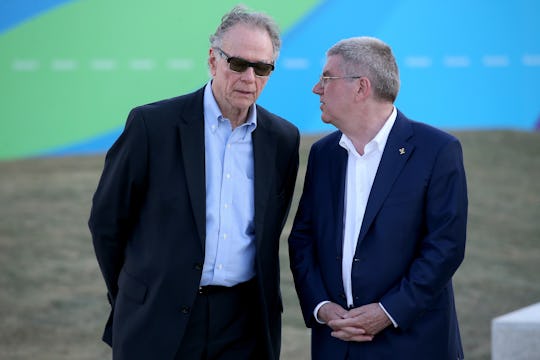 Matthew Stockman/Getty Images Sport/Getty Images
Carlos Arthur Nuzman's "Sex" Freudian Slip During Olympics Speech Says What We're Thinking
During the Rio Olympics opening ceremonies, the president of the Brazilian Olympic Committee and head of the organizing committee for the Rio games experienced a perfect Freudian slip in his opening remarks. But if you think about it, Carlos Arthur Nuzman's slip about "sex" during the Olympics was actually super on point.
In a speech before a crowd of 70,000 which had gathered in Rio's iconic soccer stadium Maracanã to observe the opening ceremonies, Nuzman introduced Thomas Bach, head of the International Olympic Committee (IOC). It was his honor "to hand over to the president of the IOC, the Olympic champion Thomas Bach, who always believed in the sex" of the Rio 2016 Games. Sorry, what was that?
Obviously, Nuzman meant to say that Bach believed in the success of the Rio Games this year — no easy feat considering the persistent problems which plagued the city of Rio in preparation for the Olympics. From contaminated bodies of water in which athletes are expected to compete, to unfinished housing, to a police and fire department that have essentially collectively quit their jobs, to the much-discussed threat of the Zika Virus, Rio is still in danger of hosting a disastrous Games.
The athletes, of course, have plenty of sex to keep them distracted from the toxic sludge they'll be swimming through and the security threats. Alas, Zika is sexually transmitted, and it has been linked to causing microcephaly in people who contract it while pregnant. (According to the Hollywood Reporter, NBC even allowed its pregnant employees to skip covering the games this year, due to a CDC recommendation for pregnant folks to avoid visiting South America altogether.) In a small effort to prevent a global Zika outbreak, the Olympic Village will be stocked with 450,000 condoms to encourage the competitors to partake in safer sex. That's roughly 42 condoms per athlete. (Major props to anyone having sex 42 times in two weeks while working; teach me your ways.)
The city of Rio will also be giving away in the neighborhood of nine million condoms to visitors and residents during the Olympics. If you think that's overkill, you have no idea how much sex is happening in the Olympic Village. Guys, it is so much sex. U.S. Olympic swimmer Ryan Lochte clocks hooking up as going on amongst "70 to 75 percent of Olympians."
So maybe Carlos Arthur Nuzman was right about Thomas Bach believing in the sex of the Rio Olympics. Everyone else certainly does.