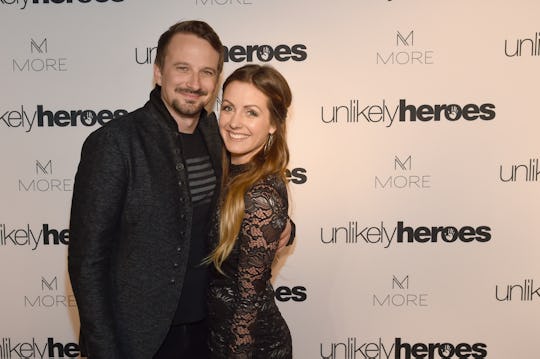 Rick Diamond/Getty Images Entertainment/Getty Images
'BiP' Stars Carly Waddell & Evan Bass Reveal Their Baby's Gender
To be a contestant on The Bachelor and The Bachelorette is to be surrounded by a lot of men and women. This something that newlyweds Carly Waddell and Evan Bass, former contestants on those shows and Bachelor In Paradise, know first hand. And they're about to have one more person to be surrounded by. Earlier in the month, the couple announced that they were expecting their first child. And then over the weekend, Waddell and Bass finally revealed their baby's gender and it could not be any more exciting.
The couple took to Instagram this past weekend to share the big news. And drumroll please... the BiP pair is having a girl! In the Instagram post, shared to Waddell's account, she, Bass, and his sons from a previous marriage — Nathan, Liam, and Ensley — look into the camera as they stand in front of a tropical background (how fitting for a couple who literally met in paradise) holding various pink objects. "This is our professional Gender Reveal photo!," the expectant mom jokingly wrote in the photo's caption. "It's a girl!!!! I'm not the only girl anymore! Woo hoo!"
Just by looking at the photo, the message is clear: Waddell, Bass, and his sons will have to get used to having a lot more pink in their lives. While Waddell could not look any happier, you can definitely tell that having a girl will certainly be a (much-welcomed) change for Bass and his boys.
As previously stated, the couple first announced that they were expecting in the beginning of the month, confirming the news to People in a statement: "We are so happy to be expanding our family as we welcome Baby Bass in 2018."
The good news just keeps on coming for fans of the couple, who just tuned in to Bachelor in Paradise last week to watch the couple get married in front of television cameras surrounded by Bachelor and Bachelorette fan favorites. While their wedding looked like an absolute dream, all of this baby news is much more exciting. This truly marks the beginning of their lives together, and the expectant mom and dad will definitely make for some pretty cool parents.
According to E! News, the couple is expecting their baby girl to arrive in February (which makes Waddell about three months pregnant now), and could not be any happier because of it. "We are so excited to welcome this new addition to our family," Bass told E! News. "We wanted to start having children quickly and...mission accomplished."
Mission accomplished, indeed.