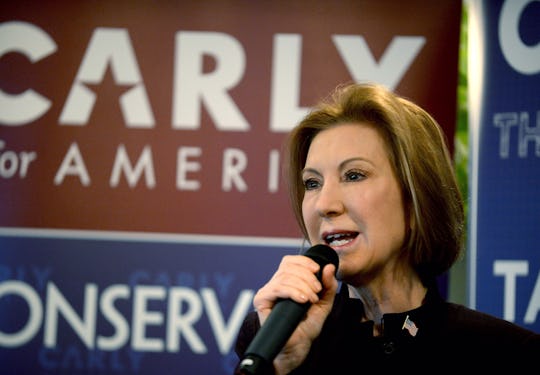 Darren McCollester/Getty Images News
Carly Fiorina Suspends Presidential Campaign — REPORT
Former Hewlett-Packard CEO Carly Fiorina suspended her presidential campaign on Wednesday, according to a post on her Facebook page. In her Facebook post, she used her favorite phrase — "crony capitalism" — and said that the same empty promises are made each election cycle and "the same poll-tested stump speeches are given." Fiorina came in seventh place at the New Hampshire primary on Tuesday with 4.1 percent of the vote, according to NPR.
Fiorina said that she still would not "sit down and be quiet" — a phrase she's used throughout her campaign, according to her Facebook post:
Our Republican Party must fight alongside these Americans as well. We must end crony capitalism by fighting the policies that allow it to flourish. We must fix our festering problems by holding our bloated, inept government bureaucracy accountable. Republicans must stand for conservative principles that lift people up and recognize all Americans have the right to fulfill their God-given potential.
The most interesting part of her message, though, was when Fiorina talked about feminism and spoke to women who will be voting in the 2016 election, according to her post:
To young girls and women across the country, I say: do not let others define you. Do not listen to anyone who says you have to vote a certain way or for a certain candidate because you're a woman. That is not feminism. Feminism doesn't shut down conversations or threaten women. It is not about ideology. It is not a weapon to wield against your political opponent. A feminist is a woman who lives the life she chooses and uses all her God-given gifts. And always remember that a leader is not born, but made. Choose leadership.
The comment is a clear attack on former Secretary of State Hillary Clinton, and it's not a new line for Fiorina. Fiorina has repeatedly said that Clinton's campaign is sexist by using Clinton's identification as a woman as a reason she understands voters.
Hilariously, and paradoxically, Fiorina was popular with the right because of her staunch anti-abortion views (but she's a feminist, you know), and because of the way she appeared at the debates (she actually seemed pretty informed on some foreign policy issues), according to NPR.
USA Today reported that Fiorina's chances in New Hampshire and the presidential race may have been done when she didn't get invited to the ABC GOP debate in Manchester, New Hampshire, last weekend. She protested vehemently that she be allowed to take the stage, but ABC didn't budge.
Fiorina briefly polled among the top Republicans after her Sept. 15 debate performance, when the moderator asked whether Fiorina had heard about Donald Trump's remarks about her. In and interview with Rolling Stone, Trump said "Look at that face! Would anyone vote for that? Can you imagine that, the face of our next president?! I mean, she's a woman, and I'm not s'posedta say bad things, but really, folks, come on. Are we serious?," according to Talking Points Memo.
When the moderator asked Fiorina if she had heard Trump's comments, she calmly answered, "I think women all over this country heard very clearly what Mr. Trump said," according to USA Today. It was one of her more badass moments, but she also spread false, disparaging rumors about Planned Parenthood... so, yeah.
Fiorina didn't say who she would be endorsing, but her endorsement could matter if she was getting any support from Republicans who liked her version of a pro-women message.