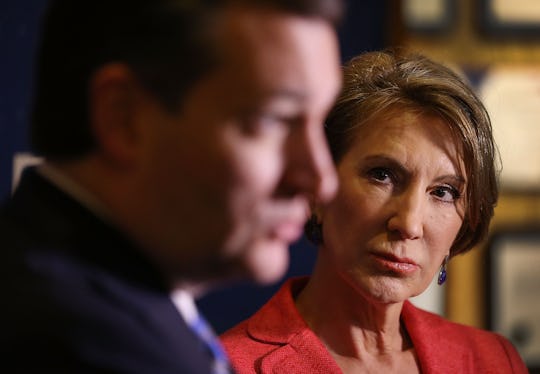 Joe Raedle/Getty Images News/Getty Images
Carly Fiorina's Missing Reaction To Ted Cruz Dropping Out Had Twitter In A Frenzy
On Tuesday night, Texas Sen. Ted Cruz dropped out the Republican race for president. Just last week, the senator had curiously chosen a running mate — but surprisingly, the woman in question, Carly Fiorina, didn't react to Ted Cruz's bad news in Indiana at all — at least not in an official capacity. While Cruz delivered the bad news to supporters, he thanked the businesswoman for joining his campaign as vice-president amid cheers for her. Fiorina looked on tearfully and hugged Cruz's father for support, but remained silent.
Directly after Cruz's announcement, Fiorina kept quiet, choosing not to make an immediate official statement. Whether that was because many news networks were airing Donald Trump's victory speech in Indiana or out of propriety, she didn't seem ready to take the spotlight and give her two cents about the decision.
It was just last week that Fiorina, the former CEO of Hewlett Packard, was singing to Cruz's daughters about spending time together on the campaign trail, and as of early Tuesday morning, she was still working hard to help Cruz gather support. She even issued a statement for Ohio Gov. John Kasich to drop out of the race so that she and Cruz could battle frontrunner Donald Trump alone on Tuesday morning before the Indiana primary.
Although she kept to herself initially following the news, many on social media were to quick to send her their condolences. "Wait, does this mean Carly Fiorina can't be vice president," one user wrote. Another wondered if Cruz had told Fiorina that their campaign together would only last a week.
Still others teased that maybe Fiorina was cursed, given that her time running Hewlett Packard is also mired in controversy ("Can't believe a Carly Fiorina merger failed," one user tweeted), while others poked fun at Cruz's unlikely secret identity as the Zodiac Killer, remarking that Fiorina had bailed following a gruesome discovery.
All jokes aside, Cruz dropping out of the race may have been a big surprise to Fiorina, given her sudden silence. The Texas senator talked a lot of game about sticking in the race until the Republican convention in Cleveland this July and it's possible that she believed him.
Even though it was short lived, the Cruz campaign stint wasn't an easy time for Fiorina, who took flak for singing during her acceptance speech as running mate and became an easy target after toppling over onstage at a recent campaign event. (She also had to hold Ted Cruz's hand in public, which was probably also difficult.)
So even if we won't get to watch her campaign all summer with Cruz, Fiorina certainly gave us enough memes to last us throughout the rest of the election cycle. And the way things seem to be going, we're going to need all the humor we can get.