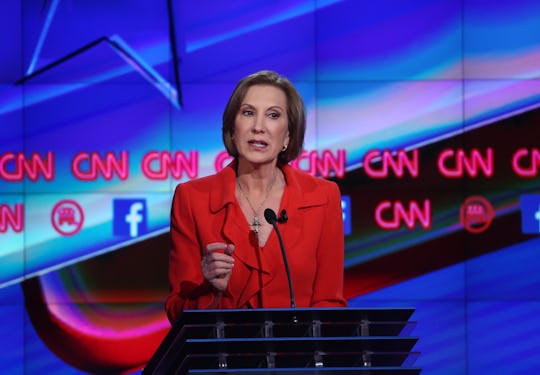 Carly Fiorina's Opening Statement At The GOP Debate Was Totally Right To Call Out Sexism
Former Hewlett-Packard CEO Carly Fiorina has dealt with too much sexism, both as a woman in business and as the only woman among the 2016 presidential GOP candidates. Fiorina said she's been called "every b-word in the book" during her opening statement at the CNN GOP debate Tuesday night, and she was ridiculed on Twitter for it. But the ridicule only proves Fiorina's point: that being a woman and standing up for yourself in male-dominated fields is too often seen as "overdoing it" or being catty.
Fiorina has fallen in the polls since one of her stronger debate performances in December. But, as always, she used her speaking skills to deliver a strong opening statement Tuesday. "All of our problems can be solved, all of our wounds can be healed, by a tested leader who is willing to fight for the character of our nation," Fiorina said, according to a tweet from CNN. "I have been tested, I have beaten breast cancer and buried a child. I started as a secretary. I fought my way to the top of corporate America while being called every b-word in the book. I fought my way into this election and onto this debate stage while all the political insiders and the pundits told me it couldn't be done."
And Fiorina wasn't lying. She entered the business world in a time when sexism was accepted. For example, when she first began her career, one of her colleagues once scheduled a business meeting at a strip club, according to Vox. Fiorina went to the meeting because she didn't want to be intimidated, and the dancers avoided her table because they pitied her. After that, her colleague never scheduled another meeting at a strip club.
And, even in the 2016 presidential race — at least two decades before Fiorina began her career in the openly sexist business world — Fiorina has still faced sexism. For example, Donald Trump pointed out in September that Fiorina was a woman and insulted her looks during an interview with Rolling Stone, according to People:
Look at that face! Would anyone vote for that? Can you imagine that, the face of our next president. I mean, she's a woman, and I'm not s'posedta say bad things, but really, folks, come on. Are we serious?
At the GOP debate that followed Trump's comment, Fiorina refused to take the bait when moderators asked her about what Trump had said. She kept her response simple and classy: "I think women all over this country heard very clearly what Mr. Trump said," Fiorina said, according to NBC News.
Later, Fiorina quoted famous feminist Margaret Thatcher, saying "If you want something talked about, ask a man. If you want something done, ask a woman," according to a tweet from Fox News. She made the statement after saying she'd like to bring back the "warrior class." Though Fiorina hasn't wanted to embrace feminism before, it's clear that she might be warming up to the idea to either win votes or take on her male opponents.
It's clear that Fiorina has faced decades of sexist remarks, and, regardless of whether she's the best candidate for the presidency, this is the 21st century — sexism should be far behind us. Unfortunately it isn't, and Fiorina was totally right to point that out as a woman among a male-dominated Republican field.
Image: Justin Sullivan/Getty Images