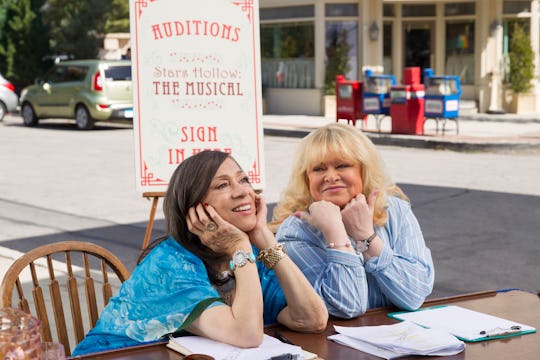 Saeed Adyani/Netflix
Carole King's Cameo In The 'Gilmore Girls' Revival Makes Up For No Opening Credits
(Warning: This post contains spoilers from Episode 3 of the Gilmore Girls revival.) Some were a little surprised to find that the iconic Carole King song, "Where You Lead" that for seven long years was the theme song for Gilmore Girls was notably absent from the opening credits of the revival. However, Carole King's cameo in the Gilmore Girls revival makes up for the lack of opening credits in a very big way. In almost every interview before Gilmore Girls: A Year in the Life began, all the major characters involved discussed how meaningful the show had been in their lives, and show creator Amy Sherman-Palladino has talked about how much she wanted Carole King to do the theme song.
When Sherman-Palladino first asked King to do the theme song, she said that she didn't perform the song in concert anymore, because she didn't want to sing about a woman following a man around. However she loved the idea of making it about a mother and daughter, so she re-recorded the song for the show with her own daughter Louise Goffen. The result? "Good Lord. It's the greatest theme song in the entire world," Sherman-Palladino said. Though the theme song has not also been revived for the revival, Carole King does make a cameo, which somehow makes it all worthwhile.
Following the first run-through of the Stars Hollow Musical, King reprises her role as Sophie, the music store owner, as part of the advisory board. When Taylor asks what everyone thought, Sophie is the first to say it's fantastic. Apparently Lorelai is the only one who's on the same page as the rest of us in thinking the musical was slightly disturbing, Sutton Foster notwithstanding. In the original show, Sophie was Lane's first real musical mentor, opening up the music store, letting her practice in the shop, and selling her the drum set.
And then she gifted us all by mentioning, "You know, Taylor, I've written some songs. I've never done anything with them but you can have them for free if you like." Yes, Carole, yes. She then jumps into an impromptu rendition of "I Feel the Earth Move," because Carole King loves us and wants us to be happy. Unfortunately, Taylor doesn't think it's catchy enough for the Stars Hollow Musical. But the few seconds she gave us was enough for me. Thank you, Carole King.