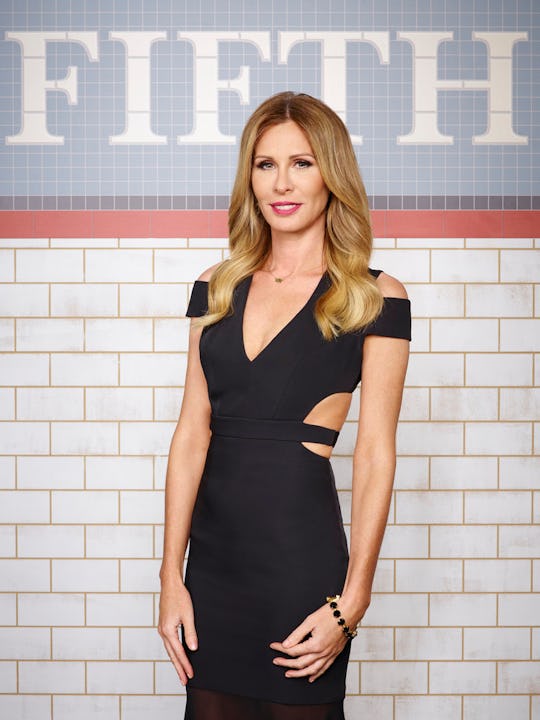 Mathieu Young/Bravo
Carole Radziwill & LuAnn De Lesseps Confront Each Other On 'Real Housewives'
On Wednesday's the Real Housewives of New York, Bethenny Frankel hosted the world's most awkward birthday barbecue at her house in the Hamptons. The setting was beautiful; she had Moscow Mules (made with Skinnygirl vodka, probably), brats, s'mores, and squabbles. Bethenny spent the first half of the party avoiding John, and Carole spent it avoiding LuAnn. John was determined, for Dorinda's sake, to apologize for his behavior from the other night, in which he burst into Dorinda's lingerie party and said some pretty hurtful things to Bethenny. She was decidedly not over it. The pair eventually did wrangle half-hearted apologies from each other, but when Carole and LuAnn finally confronted one another, there were no forced apologies.
Perhaps because Bethenny and John were never exactly friends, it was easier for them to pretend everything was fine. But Carole and LuAnn's beef goes deeper than that. We were all treated to their epic feud that lasted the entirety of Season 7, and doesn't show any signs of easing up now that we're in Season 8. It all began when LuAnn had her family friend and chef, Adam Kenworthy, cook for a gathering at her Hamptons home. (I'm beginning to feel like the women should all just give up their houses in the Hamptons. Or at least stop hosting events there). Carole and Adam hit it off, and thus began the romance that launched a thousand thinly veiled barbs from LuAnn.
At Bethenny's party, LuAnn decided to try to finally bury the hatchet, but Carole just wasn't having it. LuAnn unsuccessfully chased Carole around the yard for a few hours before finally cornering her roasting marshmallows in front of the fire pit. And thus began the first confrontation in Real Housewives history that didn't end in either broken glass or an insincere "I'm sorry you feel that way."
"We said some really hurtful things to each other," LuAnn started, but Carole immediately cut her off. "No you said some hurtful things." It was clear that Carole simply wasn't having it. The only resolution they came to was that they would never be friends, but that they'd be nice to each other when they saw each other.
The next day, at an equally awkward brunch at Jules's unfinished palace, Carole (and Bethenny) actually ran away to escape hanging out with LuAnn. "I'm surprised LuAnn brought a date for brunch," said Carole in the confessional. "Usually her dates don't stay for breakfast." Ouch, Carole.
It looks like these two might be on the outs for a while. But the good news is that Bethenny and Carole are definitely our new dynamic duo of BFFs.