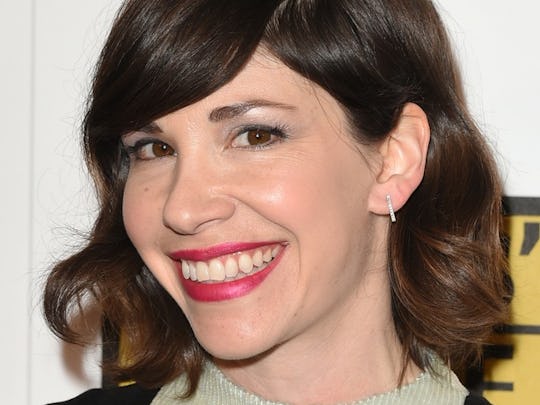 Jason Merritt/Getty Images Entertainment/Getty Images
Carrie Brownstein Officiates An Impromptu Wedding With Amy Poehler, & I'm So Jealous
I'm just going to go ahead and say it: Carrie Brownstein and Amy Poehler officiated a surprise wedding on Tuesday, and I will never not be jealous of the couple who finagled them into it. According to Us Weekly, Kendall Oshiro and Genevieve Hernandez were attending a promotional event at the Pasadena Presbyterian Church on Tuesday for Brownstein's new book, Hunger Makes Me a Modern Girl: A Memoir (you may also know Brownstein as the lead vocalist and guitarist for Sleater-Kinney, or as the writer, star, and co-creator of Portlandia). During a Q&A session unlike any other, the couple asked Brownstein if she would marry them. They'd heard that she had recently been ordained in order to marry friends of hers, and they just happened to have a marriage license ready and waiting. What a gamble! Amy Poehler, on hand to moderate the event, insisted that Brownstein oblige the pair, and Brownstein agreed. Meanwhile, I was married by a justice of the peace named Geri, who was notably not famous. But it's fine, whatever.
Poehler threw together two bouquets with flowers she pilfered from some nearby arrangements (love her) and entertained the crowd by pecking out "Greensleeves" on the piano while Brownstein hastily came up with a speech. My DJ, meanwhile, played "Livin' on a Prayer" during my reception, despite the fact that I listed both Bon Jovi and that song specifically on my "do not play" list. That was a decade ago. I'm not bitter.
Let's look at some photos and gifs of Carrie and Amy marrying people who aren't us:
And now let's take a moment to think about what it would be like to be able to say to anyone at any cocktail party for the rest of your life, "Carrie Brownstein married me," and have it be true, and even have them wonder for a second if Carrie Brownstein was actually for at least some period of your life married to you. Yup, Kendall and Genevieve, you win. 
Image: Jason Merritt/Getty Images Entertainment/Getty Images