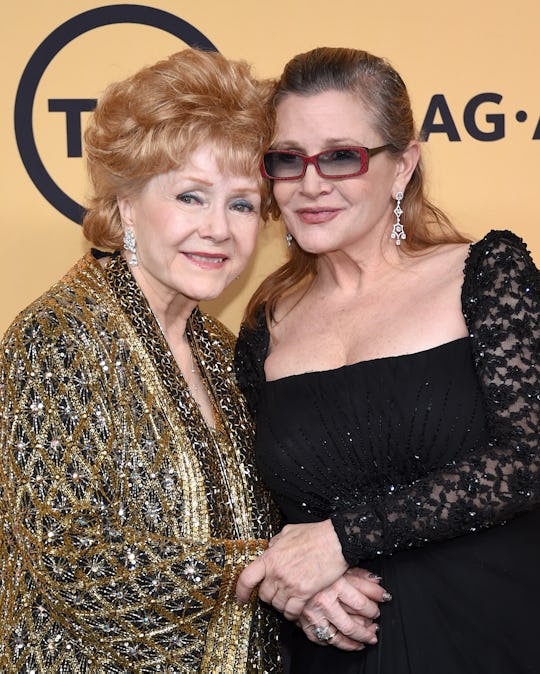 Ethan Miller/Getty Images Entertainment/Getty Images
Carrie Fisher & Debbie Reynolds To Share Funeral
This year has been an especially trying one for many and in this last week, 2016 has been even more distressing. As the world continues to grieve the unexpected loss of two of the most talented actresses in the business, TMZ reported that Carrie Fisher and Debbie Reynolds will share a funeral and the decision is perfectly fitting. The two were reportedly very close in recent years and even lived next door to each other.
The Singin' in the Rain star died of an apparent stroke just one day after her daughter died after suffering a massive heart attack on a flight from London to Los Angeles. Fisher was 60 years old, Reynolds was 84.
According to USA Today, Todd Fisher, who is Reynolds' son and Fisher's younger brother, said his mother was so grief-stricken by his sister's death on Tuesday — four days after she was taken to UCLA Medical Center for a heart-related medical emergency — that the stress of it all may been too much for her to bear.
"She said, 'I want to be with Carrie.' And then she was gone," the 58-year-old actor told the Associated Press on Wednesday. "She's now with Carrie and we're all heartbroken."
According to TMZ, shortly before Reynolds was taken to the hospital on Wednesday, she told her son, "I miss her so much. I want to be with Carrie."
"I think this is what they would have wanted," one family member reportedly told TMZ of the decision to hold a joint funeral, adding that the family is likely going to hold "a private, small ceremony" and "a much larger second memorial service" likely for fans to pay their respects.
Late Thursday morning, Todd Fisher posted a touching message on Twitter, along with a beautiful drawing of his mother and sister holding each other dressed in costumes from their most legendary roles: Fisher in her Star Wars Princess Leia garb and Reynolds in a yellow raincoat and carrying an umbrella from the 1952 musical Singin' in the Rain.
"This is a beautiful love story to witness in my 58 years," he captioned the post. "I miss them both so much. Love is everlasting."
Losing a child, no matter the age, is an unimaginable thought and no one can predict how their grief and emotional stress will affect them. A broken heart is a real thing and the overwhelming stress from it can be devastating.
While the timing of Reynolds and Fisher's deaths is painful for those close to them and for the fans who admired them, a shared funeral seems to be a perfectly fitting way to honor these two Hollywood legends and will possibly fulfill a grieving mother's dying wish to be with her daughter.