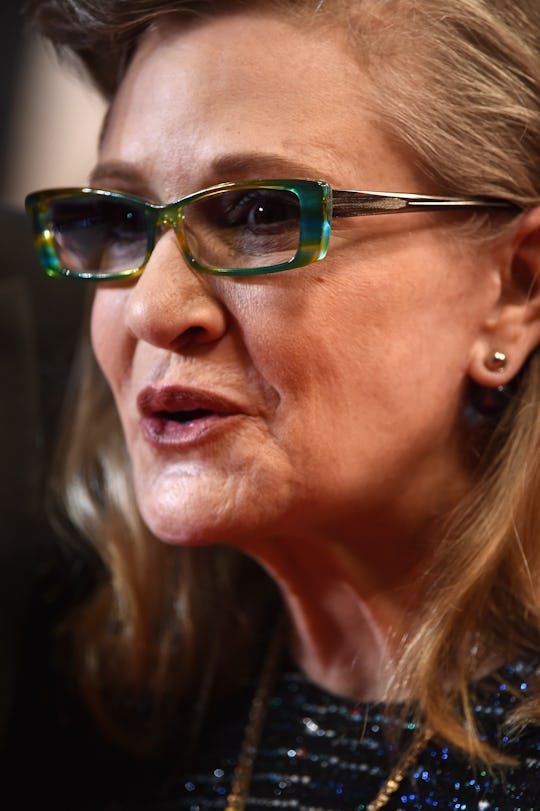 Ian Gavan/Getty Images Entertainment/Getty Images
Carrie Fisher Dies At 60 Years Old
After suffering from a heart attack during a flight from London just before the holidays, Star Wars icon, actor, writer, and director Carrie Fisher died on Tuesday. She was 60 years old. According to a family spokesperson, she died in the morning, according to Us Weekly:
It is with a very deep sadness that Billie Lourd confirms that her beloved mother Carrie Fisher passed away at 8:55 this morning. She was loved by the world and she will be missed profoundly. Our entire family thanks you for your thoughts and prayers.
Fisher was traveling from London back to Los Angeles after the European leg of her book tour for her new memoir, The Princess Diarist on Friday when she had a heart attack. According to witnesses on the flight, Fisher went into cardiac arrest and stopped breathing for a few minutes while an EMT who was luckily aboard the plane administered CPR. Fisher was rushed to the hospital when the plane landed around noon on Friday, according to TMZ, and was in critical condition throughout the afternoon.
The Los Angeles Times reported that a source "not authorized to discuss the incident" said the Star Wars actress was in "distress for most of the flight," though she reportedly went into cardiac arrest about 15 minutes before the plane landed. United Airlines issued a statement on Friday afternoon saying, "Medical personnel met United flight 935 from London to Los Angeles upon arrival today after the crew reported that a passenger was unresponsive. Our thoughts are with our customer at this time and any requests for additional information should be directed to local authorities."
People on the plane took to Twitter to report the incident. Comedian Brad Gage tweeted, "I'm in complete shock. @AnnaAkana and I sat in front of Carrie Fisher on our flight from London and she was just taken off the plane by EMTs."
Anna Akana, a YouTube personality, also tweeted at the time, "So many thanks to the United flight crew who jumped into action, and the awesome doctor and nurse passengers who helped."
Fisher was best known for her role as Princess Leia in the Star Wars franchise. She is also the voice of Angela on Family Guy and has made numerous cameos and appearances on popular television shows like 30 Rock, The Big Bang Theory, and Weeds. She had been in London filming Catastrophe, an Amazon original show with Rob Delaney, just days before.
Fisher is the daughter of singer Eddie Fisher and actress Debbie Reynolds. She is survived by her daughter, Billie Lourd, who she had with her then partner, Bryan Lourd.