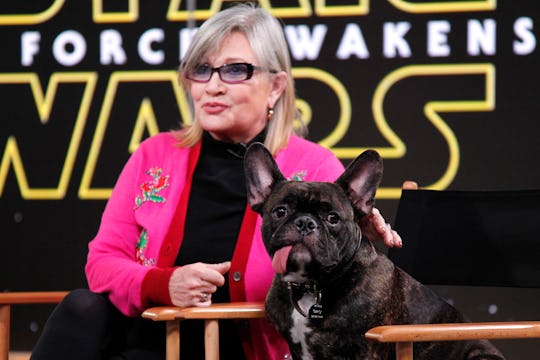 Courtesy of Getty Images
Carrie Fisher Inspired A Generation Of Funny Women
"Princess Leia died."
I overheard this snippet of conversation from the next aisle over at Target on Dec. 27, the day that actress and writer Carrie Fisher died at the age of 60. My heart panged and sank in the maddeningly familiar way that it has this year, which has stolen more than its share of beloved artists and public figures.
Like everyone my age, I grew up on a steady diet of Star Wars, a franchise that has outlasted the same drive-in theaters and mall megaplexes that introduced it to me. Over the weekend, my family and I had continued our Christmas-day cinema tradition at a showing of Rogue One: A Star Wars Story, which proved particularly poignant in light of Fisher's dire health.
But as much as Star Wars is written into my pop culture DNA, I grew up to be a comedy nerd rather than a comic book nerd. I became a comedy and satire writer. This could explain why in that moment, slumped under the fluorescent lights of Target, literally surrounded by hundreds of Star Wars Lego boxes, my mind didn't drift to Fisher's portrayal of Princess (and later, General) Leia Organa. It went to Fisher's work as a fearlessly honest, acerbic voice in comedy, as well as her role as a guiding light and an inspiration for all aspiring female comedy writers.
30 Rock.
Consider Fisher's work in arguably one of the greatest sitcoms of all time, 30 Rock. In one of the show's second season episodes, "Rosemary's Baby", Fisher plays a former TV comedy writer whom Tina Fey's Liz Lemon has long idolized—until she slowly uncovers evidence that the actual fruits of Rosemary's comedy career (namely bitterness, alcoholism, and an apartment in a sketchy neighborhood) are more of a cautionary tale than an aspirational one.
The laughs are plentiful, but the episode's real brilliance is its role as a commentary on the sexism and ageism of Hollywood, which Fisher, as a woman who has frequently commented on her own role as a fading sex symbol, would know firsthand. The show also nods to Fisher's role as a matriarch and trailblazer to a new generation of comedy writers and memoirists like Tina Fey, who have also similarly called out our culture's obsession with women's beauty (remember Fey's role in Amy Schumer's famous "Last F**kable Day" sketch, featuring her and fellow funny ladies Patricia Arquette and Julia Louis-Dreyfuss as fading Hollywood beauties?). We get all of this cultural satire and incisive commentary in 22 minutes of hard belly laughs, plus we get to see Fisher cry out, "Help Me, Liz Lemon! You're my only hope!"
Carrie Fisher was and will always remain sci-fi royalty, but let's not forget she was also a comedy queen. Her ability to fully participate in and also criticize and satirize popular culture and its trappings in the same breath should make comedy writers take note and bow down. Far from a snarky armchair quarterback taking easy shots when systems and people fail, she deeply entangled herself in the glitz and glamor of Hollywood and wrote, unflinchingly, from the inside looking out.
Not only did Fisher always speak her mind, but she also helped numerous legendary female characters do the same.
Her best-selling memoirs and semi-autobiographical novels were developed into everything from hit movies (Postcards From the Edge) to a one-woman Broadway show (Wishful Drinking). Her frank warmth elevated the typically cliché supportive best-friend role in When Harry Met Sally to a character who felt real and three-dimensional. Because of her knack for genuine dialogue, Fisher was also a sought-after script doctor, called in to address clunky dialogue, structural gaps and thin female characters for movies like Sister Act, Hook, The Wedding Singer and Lethal Weapon 3; she was even rumored to even have provided several vital edits to at least one Star Wars script. In other words, not only did Fisher always speak her own strong and refreshingly honest mind, but she also helped numerous female characters do the same.
Fisher's wit was not without precedent: Joan Rivers and Dorothy Parker, for instance, were clear influences on her bawdy, acerbic tone. Yet Fisher's work always felt new and surprising. Every word and role were stamped with her unique voice—something we comedians endlessly pursue, but rarely achieve with such purity.
Carrie Fisher taught us that pain can be really funny and useful when one chooses to laugh through it rather than be consumed by it.
I think this was because, even while she was grappling with the typically private indignities of addiction, mental illness, and aging, she always brought us all (including herself) in on the joke, no matter how dark the punchline was. Comics often tell self-deprecating anecdotes, but few can honestly mine their darkest moments to generate joy, catharsis and connection. Fisher was always willing to learn and laugh about her hard-won lessons from her own time in the dark side, building up a deeply endearing kind of gritty grace and heart that grounded her larger-than-life tales. Her writing was true, even when it wasn't. We as a comedy audience were well-primed for modern, confessionally-minded voices like Amy Schumer, Lena Dunham and Mindy Kaling, thanks to Fisher's ability to generate a laugh along with a wince.
For me, so much of Fisher's genius was her comedic power of reclaiming. She taught us that pain can be really funny and useful when one chooses to laugh through it rather than be consumed by it. As she aged out of the window of on-screen desirability in an increasingly youth-obsessed industry and culture, she composed a masterful second act out of mocking our obsession with beauty.
How many times have we heard the tale of the wilting Hollywood sex symbol, the actor who falls into chronic addiction, the star who wrestles with mental health and tries to keep their name out of the tabloids? Fisher changed the narrative about her life by reclaiming it. She shouted it all from the rooftops so there was nothing else to whisper behind her back. Rumors about a possible tryst with Harrison Ford in his prime? Girl, she'll tell you all about it. She lived, loved, wrote, messed up and confessed big without ever devolving into self-parody or caricature.
So yes, the person one aisle over at Target was right—the world lost its Princess Leia, and that loss can't be overstated. But Carrie Fisher's imprint on comedy and writing will also endure and influence writers like me for the better.