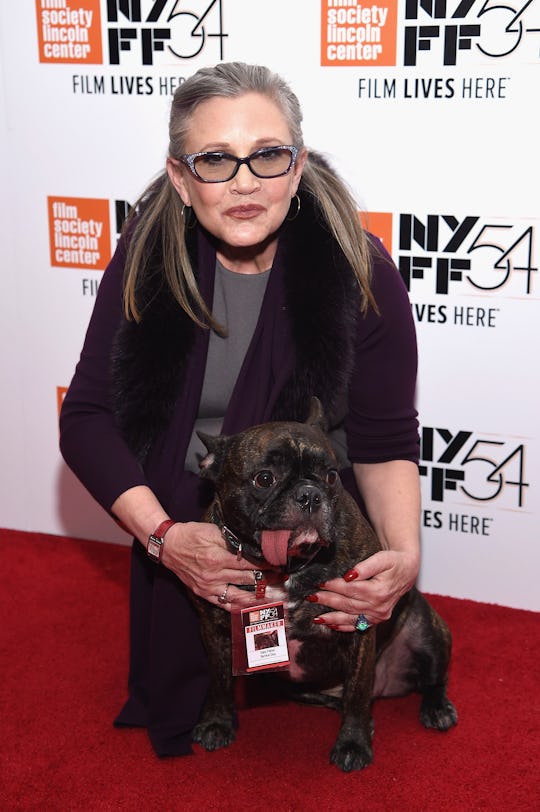 Dimitrios Kambouris/Getty Images Entertainment/Getty Images
Carrie Fisher Just Became Yet Another Victim Of…
On Dec. 27, 2016, Carrie Fisher, the actress best known as Princess Leia in the Star Wars series, died after suffering a heart attack on a flight from London to Los Angeles. She was 60 years old.
An accomplished actress, screenwriter, and author, Fisher was on tour to promote her latest book, The Princess Diarist, based on the journals she kept while shooting Star Wars. On Friday, she suffered cardiac arrest on a United Airlines flight, where the crew attempted to revive her before the plane landed at LAX, where she was taken to the hospital.
According to a statement by her daughter, Scream Queens actress Billie Lourd, Fisher passed away at 8:55 a.m. on Tuesday morning. "She was loved by the world and she will be missed profoundly," Lourd said in the statement. "Our entire family thanks you for your thoughts and prayers."
Fisher's death comes on the tail end of the deaths of celebrities like Brady Bunch actress Florence Henderson, Growing Pains actor Alan Thicke, and pop singer and former member of Wham! George Michael, all of whom passed away within the past month or so. 2016 also saw the deaths of musicians David Bowie and Prince, who passed away in January and April, respectively.
This recent spate of celebrity deaths, coupled with the (ahem) surprising election results, has prompted people on social media to officially declare 2016 the Worst Year Ever, including Firefly actor Jewel Staite:
And former Backstreet Boy AJ McLean:
Doctor Who actress Pearl Mackie also chimed in.
As did Friday Night Lights star Connie Britton:
Others broke out their favorite Star Wars GIFs to curse 2016 and commemorate the memory of Fisher:
Others mourned the loss of the greatest movie princess of all time, not to mention a bona fide feminist hero:
In addition to being an actress and accomplished memorist and author, with books like Postcards from the Edge (which was later made into a 1990 movie starring Meryl Streep and Shirley MacLaine) and Wishful Drinking under her belt, Fisher was also an outspoken advocate for mental health issues. At the age of 29, she was diagnosed with bipolar disorder, a mental health condition that causes extreme mood swings, among other symptoms.
Fisher was extremely open about her discussion, discussing it publicly in the media at a time when mental health stigma led many to suffer behind closed doors.
"I have a chemical imbalance that, in its most extreme state, will lead me to a mental hospital ... I am mentally ill," Fisher told Diane Sawyer on ABC's PrimeTime. "I can say that. I am not ashamed of that. I survived that, I'm still surviving it, but bring it on."
While cursing 2016 for robbing us of entertainment greats like Fisher, Thicke, and Michael might be something of a meme at this point, Fisher's loss will surely be missed.
This post is breaking and will be updated as it develops.