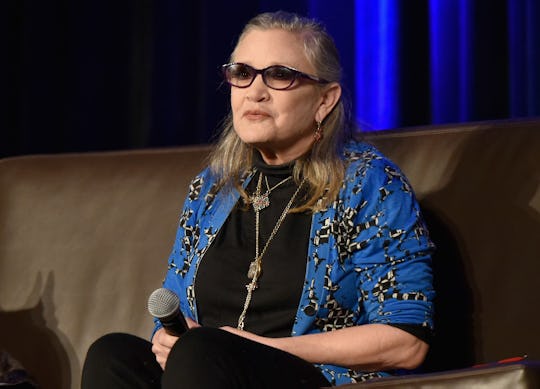 Daniel Boczarski/Getty Images Entertainment/Getty Images
What We Know About General Leia Organa's Appearance In The Next "Star Wars"
It's hard to believe that it has almost been two years since Carrie Fisher died unexpectedly of a heart attack at the age of 60. The beloved actress from the original Star Wars franchise's memory has been kept on in the hearts of fans and in the most recent Star Wars film, Star Wars: The Last Jedi. But, Fisher's memory will continue to live on in a major way. Because on Friday, it was announced that Carrie Fisher will appear in the newest Star Wars film, allowing fans to continue to hold on to her character, Leia Organa, and the beloved actress for a final time.
Not much is known about the ninth installment of the Star Wars film series — not even the film's title — the movie is currently being referred to as Star Wars: Episode IX, according to Slate. But, on Friday, the production team behind the film, Lucas Films, announced the cast of the new movie in a press release. According to the release, veterans of the film series, such as Mark Hamil, Daisy Ridley, Adam Driver, and Oscar Isaac will be return to their roles — including Fisher, who died in December 2016, according to CNN.
The film's returning director and co-writer of the screenplay, J.J. Abrams said in a statement:
We desperately loved Carrie Fisher. Finding a truly satisfying conclusion to the Skywalker saga without her eluded us. We were never going to recast, or use a CG character. With the support and blessing from her daughter, Billie, we have found a way to honor Carrie's legacy and role as Leia in Episode IX by using unseen footage we shot together in Episode VII.
OMG, can we just take a moment? That means that there will be another storyline involving Leia and fans will be able to look forward to seeing Fisher on their movie screens, yet again. As if fans didn't have a reason to look forward to this new installment, this announcement on Friday gives them another reason to do so.
In the last Star Wars installment, Fisher made (what fans thought was) her "final appearance" in the film series, according to Entertainment Weekly — but they were wrong. The last time that fans saw Fisher on screen last year, according to Entertainment Weekly, Fisher's character was given the opportunity to wield the Force, after being "tossed into the vacuum of space." Although the blow from this could have killed her character, she proved herself to be still alive — and her appearance in this new film proves that the character is still alive.
Fisher had finished shooting the eighth film in the series in July 2016 and her work for the film had been finished, according to Variety. Fisher was even expected to appear in episode nine, according to Variety — and now she still does get to appear in the film. Even after her death, it's obvious that her impression she gets to make on this earth is far from over, and this new Star Wars film will allow her to do just that, posthumously.
Needless to say, people on Twitter were pretty excited about the news, taking to the platform to share their thoughts about it.
Unfortunately, other than Abrams' statement, there is not much else that people know about the status of Fisher's character or the context of her appearance in the new film, according to CNet — like what kind of footage they have of her or the fate of Leia at the end of the film series. And while people are so excited about this announcement, they're going to have to wait just a little while longer to see Fisher on the big screen, again. This is because the newest installment in the Star Wars series is expected to hit theaters in December 2019, according to People.
But fans know that the wait will be so worth it.