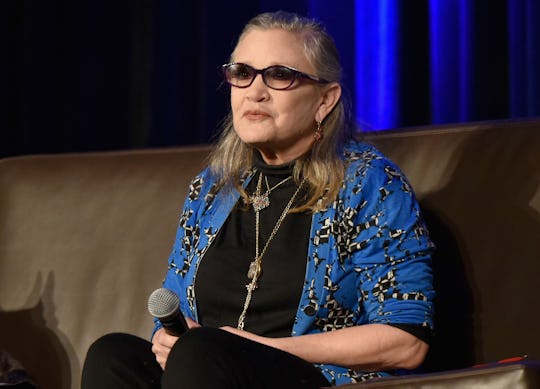 Daniel Boczarski/Getty Images Entertainment/Getty Images
Carrie Fisher's Best Cameos Prove What A Comic…
On Tuesday, Dec. 27, 2016, social media mourned the death of actress Carrie Fisher, who passed away at the age of 60 at a Los Angeles hospital. On Friday, Fisher suffered a heart attack on a flight from London to Los Angeles.
While Fisher was best known for playing the iconic role of Princess Leia Organa in Star Wars, she was also well-known for her work as a screenwriter and memoirist (Postcards from the Edge, Wishful Drinking), as well as her smaller roles in other classic films and TV shows, ranging from Sex and the City to Smallville to The Big Bang Theory.
In most of her appearances, Fisher played either a parody or a fictional version of herself, i.e. a former Hollywood starlet or hard-edged, boozy writer (see her classic appearance in 30 Rock as Rosemary Howard, a washed-up comedy writer who lusts after younger men and carries around booze in a thermos).
Whether it was in big-budget Hollywood vehicles or TV sitcoms, Fisher was always game to laugh at herself or her Star Wars persona. Basically, if there was a TV show or movie that came out during the early-to-mid-aughts, Fisher likely made an appearance on it.
Below, a roundup of her greatest (non-Princess Leia) roles.
Austin Powers: International Man of Mystery (1997)
In 1997, Fisher played a crunchy family therapist mediating the tensions between Dr. Evil (Mike Myers) and his son Scott (Seth Green). "I think we have to stop," she says as Dr. Evil recounts his childhood in grim detail (anyone remember the "Zoroastrian named Wilma ritualistically shaved my testicles" line?)
Scream 3 (2000)
In the third installment of the classic horror series, Fisher played a chain-smoking studio archivist who shared an uncanny resemblance to...well...Carrie Fisher. "I was up for Princess Leia. I was this close. So who gets it? The one who sleeps with George Lucas," Fisher deadpanned in the film.
Sex and the City (2000)
During the third season of the HBO series, Carrie (Sarah Jessica Parker) hooks up with Keith (Vince Vaughn), who claims to be a high-powered film executive with a swank Hollywood pad. Instead, he turns out to be house-sitting for Carrie Fisher (playing herself), who confuses Carrie for a prostitute. "I have a child. I can't do this," she says apologetically as she kicks Keith (and Carrie) out the door.
Smallville (2005)
In the fifth season of Smallville, Fisher played Pauline Kahn, a hard-nosed editor-in-chief who hires Chloe (Allison Mack) at the Daily Planet.
30 Rock (2007)
While not technically a cameo, no roundup of Fisher's work would be complete without a mention of the 30 Rock season 2 classic "Rosemary's Baby," in which Fisher plays Rosemary Howard, a superstar 1970s sketch comedy writer and hero of Liz Lemon (Tina Fey). While Liz idolizes Rosemary, she eventually follows her to her apartment and gets a bleak view of her current existence in the fictional neighborhood Little Chechnya, prompting Fisher to intone, "Help me, Liz Lemon. You're my only hope."
Big Bang Theory (2014)
In 2014, Fisher appeared on the CBS super-hit The Big Bang Theory playing herself as a cantankerous actress who chases Sheldon and Star Wars co-star James Earl Jones off from her backyard.