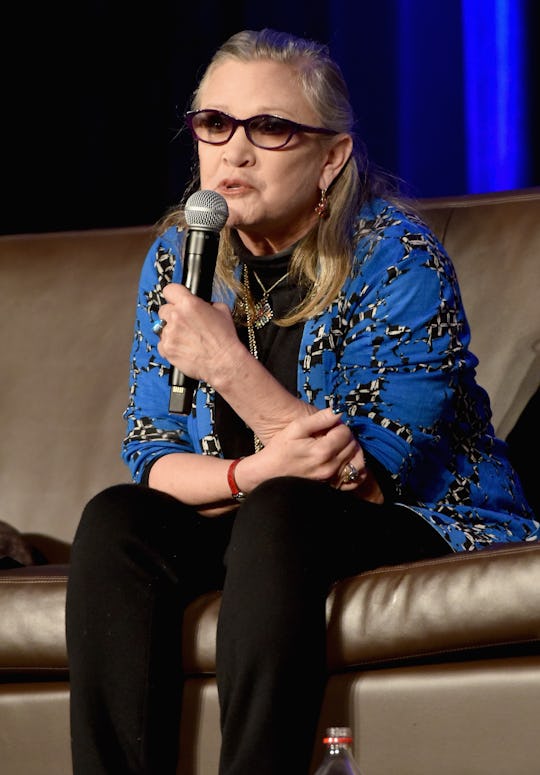 Daniel Boczarski/Getty Images Entertainment/Getty Images
Carrie Fisher's Last Appearance Was A Special One
Best known for her role as Princess Leia in Star Wars, Carrie Fisher died Tuesday, Dec. 27 at the age of 60. Though Fisher may be known for her most famous role to many, she was much, much more than just an actress. As a mother, a daughter, an advocate for mental health, and an author, Fisher leaves behind a strong an unforgettable legacy. In fact, Fisher's last appearance was in London, promoting her eighth book, The Princess Diarist, according to NPR.
Following this appearance, The Los Angeles Times reported that Fisher suffered a cardiac arrest aboard a Los Angeles bound flight on Friday, Dec. 23, shortly before landing. Though Fisher's mother Debbie Reynolds took to Twitter to report that Fisher was in stable condition on Christmas Day, according to a statement released to People by family spokesman Simon Halls, Fisher failed to make a recovery from the heart attack, and passed in the early hours of the morning on Dec. 27.
The beloved actress kept her fans updated on her time in London via her Twitter account, sharing both personal trips to places such as the Charles Dickens Lounge, and behind the scenes snaps of her upcoming stint on Catastrophe with co-star Sharon Horgan.
Though Fisher diligently kept her fans up to date on her personal travels throughout Europe over the last few weeks, her last public appearance was promoting The Princess Diarist at a book signing. The book recently made waves with its release by revealing her on-set affair with co-star Harrison Ford, staying true to Fisher's candid and honest approach to life. Never one to shy away from difficult or tumultuous subjects, Fisher certainly didn't disappoint fans with her final book release. Digging into diaries from her time on set during the filming of Star Wars as a 19 year old, The Philadelphia Inquirer reported that Fisher's book includes retyped passages from her original diaries from the '70s.
Fans of Fisher know that she was an unrelenting advocate of speaking your truth, and taking care of yourself. With a book signing as her last public appearance, sharing her truth with the world is exactly the way fans will remember Fisher. Colleagues, family members, and fans of Fisher have taken to Twitter to mourn and support one another in the wake of Fisher's death.
Fisher will be remembered as much more than an actress, but as a beacon of strength to many.