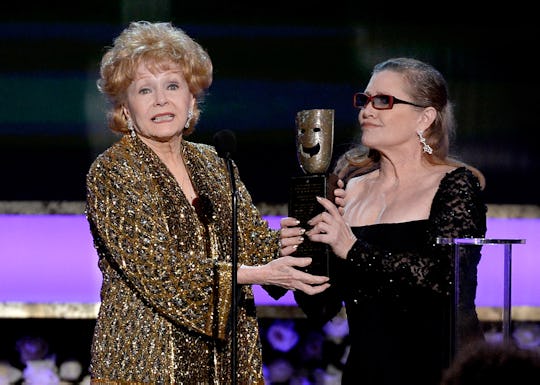 Kevork Djansezian/Getty Images Entertainment/Getty Images
Carrie's Quotes About Debbie Are Beautiful
The world is still reeling from the news that Star Wars actress and best-selling author Carrie Fisher passed away at 60 from complications following a heart attack, and her mother, screen legend Debbie Reynolds, died from a stroke just one day later. But fans can take comfort in remembering Carrie Fisher's quotes about Debbie Reynolds, who loved and respected her mother not just as a parent, but as a tireless, hardworking actress and singer who never let her star fade.
Fisher was acutely aware from a very young age that her mother was a larger-than-life star, recalling in a 1983 Rolling Stone interview, "I remember the press diving through trees to get pictures of me, my brother and my mother." Fisher eventually found fame of her own playing Leia Organa in the Star Wars series, quipping in that same interview, "Who's more famous than Debbie and Eddie [Fisher, her father]? C-3PO and Darth Vader," but she never lost sight of her mother's fame, or her admiration for how she handled it. While the children of some celebrities go out of their way to avoid the spotlight, Fisher embraced it, and always gave her mother credit for enduring her celebrity status with grace and determination.
In a 2011 Oprah appearance, Fisher talked about what it was like growing up with a superstar for a mother. Describing Reynolds' walk-in closet, she said, "She'd go in on this end as my mom, and she'd come out the other end as Debbie Reynolds. It was like a car wash for celebrities."
And even in her golden years, Reynolds didn't slow down. Fisher told Oprah:
The funniest thing is my mother goes on the road and works. She gets up and puts her face on and her hair on and she's just this – she's alive, at a time in her life when a lot of people are getting ready not to be.
Fisher was proud to follow in her mother's footsteps, telling Oprah, "If I'm like her in any way then I'm very, very happy that I am."
Just last month, Fisher lauded her mother's determination to NPR's Terry Gross:
She's an extraordinary woman. Extraordinary. There's very few women from her generation who worked like that, who just kept a career going all her life, and raised children, and had horrible relationships, and lost all her money, and got it back again. I mean, she's had an amazing life, and she's someone to admire.
In a 2010 interview with The New York Times, Fisher similarly praised Reynolds: "She would go through these amazingly difficult things, and the message was clear: Doing the impossible is possible." But her most succinct quote about her mother was perhaps best said during Reynolds' Hollywood Walk of Fame star ceremony in 1997, when, according to Entertainment Tonight, Fisher told Reynolds, "If I have to live in anyone's shadow, it should be yours." They'll be remembered by fans as two women who both handled their fame with humor, wit, and grace.