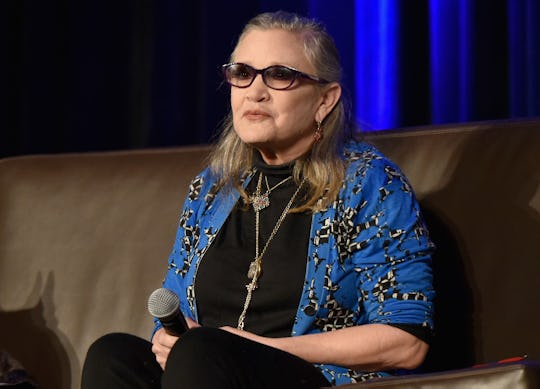 Daniel Boczarski/Getty Images Entertainment/Getty Images
Friends React To Carrie Fisher's Heart Attack
After going into cardiac arrest on a flight from London, Carrie Fisher's Star Wars co-stars reacted to her heart attack on Twitter. Mark Hamil tweeted just after the news broke on Friday evening, "as if 2016 couldn't get any worse... sending all our love to @carrieffisher." Other celebs and fans also took to social media to send their good vibes to Fisher and hope for her quick recovery.
Hamil's sentiment was echoed all around social media as Fisher's celebrity friends and her dedicated fans worried about her health. As of Friday evening, the Associated Press reported that Fisher was in stable condition.
According to TMZ, Fisher went into cardiac arrest about 15 minutes before the plane landed in Los Angeles. An EMT who was on the flight by chance reportedly gave the 60-year-old actress CPR when she stopped breathing during the flight. The plane landed around noon, and Fisher was rushed to the hospital.
United Airlines issued a statement on Friday afternoon saying, "Medical personnel met United flight 935 from London to Los Angeles upon arrival today after the crew reported that a passenger was unresponsive. Our thoughts are with our customer at this time and any requests for additional information should be directed to local authorities."
Comedian and filmmaker Anna Akana was on the flight and tweeted, "Don't know how else to process this but Carrie Fisher stopped breathing on the flight home. Hope she's gonna be OK."
Meanwhile friends and family continue to show their support for the Star Wars actress.
From The Star Wars Family
Even Darth Vader
And Other Celebs Send Their Love, Too
Fans Are Also Rallying For Her Quick Recovery
One Star Wars fan tweeted, "Dear UCLA Medical Center Cardiac Unit: The fate of the Galaxy is in your hands," which pretty much sums up most everybody's thoughts about the actress being in critical condition.
Fisher was best known for her role as Princess Leia in the original Star Wars trilogy. She has acted in dozes of other films and TV shows, though, and also co-wrote some TV specials and movies, according to IMDb. Before the flight Friday, she was reportedly in London filming the Amazon show, Catastrophe, in which she plays Rob Delaney's (sometimes terrible) mother. Fisher has said that the role has given her a chance to show off more of her comic chops. "I did want to play an awful person, instead of carry guns and talk to Harrison [Ford] all the time," she said at a Tribeca Film Festival panel last spring.
Fisher is also the voice of Angela on Family Guy and has made guest appearances on popular TV shows like 30 Rock, The Big Bang Theory, Smallville, and Weeds. She's a force to be reckoned with. With the whole Star Wars fan community behind her (and everyone else who adores the smart, sassy actress), there's hope that she'll recover.