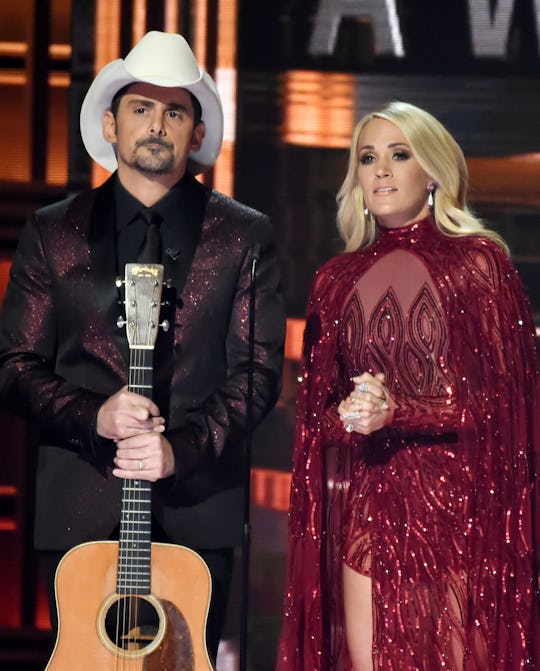 Rick Diamond/Getty
Carrie Underwood & Brad Paisley Opened The CMAs With A Touching Dedication
The past couple of months have been undeniably difficult for us here in the United States. With the combined natural disasters and mass shootings, the entire country is, well, a little shaken. So Carrie Underwood and Brad Paisley paid tribute to Las Vegas at the CMAs with a touching dedication. In today's climate, it would have been almost gauche not to say anything. Even so, their simple speech was extremely sweet and tasteful.
The show began with a star-studded country medley (with tributes stretching all the way back to the days of Hootie and the Blowfish), before the Country Music Awards Ceremony's usual hosts, Carrie Underwood and Brad Paisley, took the stage to begin the show. Before all of the silliness (and political dad jokes) could begin, the pair spoke briefly about all of the tragedies that have befallen the United States, including the recent hurricanes and terror attacks that have taken place. The message was not overly political, and they did not talk about leaning one way or another, but they did express their love, and their prayers, for the victims of these tragedies. Personally, I disagree with both of these stars' political views, but I have to respect their comments.
Underwood began the speech with a few somber comments about what had happened. She said:
Las Vegas, Charlottesville, New York, Sutherland Springs. Historic storms in Texas, Puerto Rico, and Florida and the list goes on and on. This has been a year marked by tragedy impacting countless lives, including so many in our country music family. So tonight, we're gonna do what families do — come together, pray together, cry together, and sing together too.
The country music family was particularly affected by the Las Vegas tragedy. In the deadliest mass shooting in modern American history, a single gunman opened fire from a nearby hotel room onto a country music festival. The shooting left 58 people dead, and wounded over 500. The other tragedies Underwood mentioned have all happened in the past few months.
Paisley continued by telling the audience that they were going to honor their fans by playing their music, which hopefully will bring some peace to the people still suffering.
Look, the way we see it, the best way to honor our fans is to play our music loud and proud. Our music lifts people up and that's what we're here to do tonight. So this year's show is dedicated to all those we've lost and all those who are still healing. We love you and we will never forget you.
But though the country may still be suffering, life does go on. In that spirit, Underwood wrapped up the speech by saying, "So that being said, with your permission, are you ready for country music's biggest night?" Sure, I'm not the biggest country music fan, but for those that are, they were definitely ready for the festivities to begin.
After the quiet note, the jokes were ready to begin. Paisley and Underwood were ready to lighten the mood. As every awards show must, these days, they began by making a few political jokes, under the "we're not going to make any political jokes" guise. These included a few parody riffs on some popular country songs, including Underwood's own. The joke that landed best was a gentle dig at President Trump, a song called "Before He Tweets." Compared with some other recent awards shows, the political humor was markedly softer toward the Conservative side of the aisle (which makes a certain amount of sense considering country music's demographics).
But while I may not be on the same side of any political debate with these two, I have nothing but admiration for their remarks at the beginning of the show.
Watch Romper's new video series, Romper's Doula Diaries:
Check out the entire Romper's Doula Diaries series and other videos on Facebook and the Bustle app across Apple TV, Roku, and Amazon Fire TV.