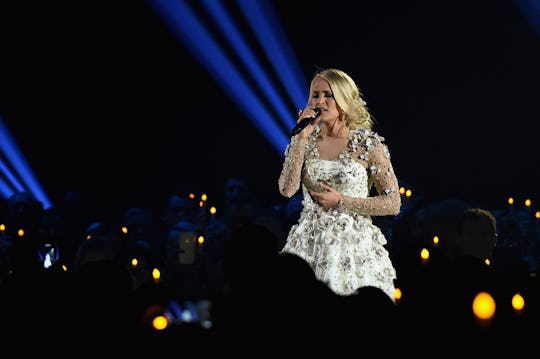 Rick Diamond/Getty Images Entertainment/Getty Images
Carrie Underwood & Ludacris' Super Bowl Song Is Super Catchy
The biggest day in music is here, y'all. Oh, I'm also told that the Super Bowl is a pretty big day for sports, as well. But let's be honest, it's all about the musical guests at the big game, and Carrie Underwood and Ludacris' Super Bowl song will bring together fans from all over. The bop premiered back in January with a lyric video that had fans of both Underwood and Ludacris excited.
Obviously, the Super Bowl is one of the world's biggest stages, and the opportunity to perform during it, or before it, or even just to release a song for it is probably a pretty amazing feat. Underwood's latest collaboration certainly gives her ample time to remind the world of just what a powerhouse she is, and also gives Ludacris the time to rap out a verse and put all the haters in their place.
Seriously, "The Champion," is a total jam, and Underwood even (sort of) performed it before the Super Bowl began on NBC, although Ludacris was not in sight. But if you're looking for a new gym song to power through that cardio with, or if you just want a song to be able to listen to as you walk down the street to help you feel like a boss, then look no further.
The song, called "The Champion," is meant to be a celebration of the Super Bowl, so obviously, it's filled with plenty of sports-esque metaphors, but that doesn't mean it's only for football fans. After all, athletes aren't the only one who need to be pumped up sometimes. Hey, when you go in to work in the morning after eating your weight in hot wings and all of the carbs, you're going to want to listen to something that reminds you you're your own champion.
During the chorus, Underwood belts, "I am invincible, unbreakable, unstoppable, unshakeable," and the entire time, I'm like "yeah you are!" Listen, I'm not even a country music fan, but even I can recognize greatness when I see or hear it, and Underwood's song with Ludacris is definitely great.
To be honest, though, when Underwood performed the song during the Super Bowl pregame show on Sunday afternoon, I personally thought that that second ever episode of Black Mirror was a reality. Seriously, Underwood was surrounded with large screens and graphics, and she didn't have a microphone. It was so good, it almost didn't feel real. But I guess it was, because people everywhere were freaking out about Underwood's performance, and the total jam that she has gifted the world.
I mean, the song is pretty catchy, so it makes sense that it would be the perfect choice to kick off the Super Bowl. After all, sports require a lot of energy and stamina (or so I'm told), so Underwood's song about being "The Champion," is actually the perfect theme song for the Super Bowl.
But that's not all. Underwood's latest song will also play an important role in another pretty big sporting event this year. According to Rolling Stone,
Additionally, the song will feature in NBC's coverage of the Winter Olympic Games in South Korea, beginning February 9th.
Considering the fact that Underwood is a pretty big football fan, and has "served as the voice of NBC's flagship Sunday Night Football for the past five seasons," per Rolling Stone, her latest move makes a lot of sense. And fans from both the Eagles and the Patriots definitely approved.
Seriously, good job Carrie and Ludacris, you created a true bop, and you should be proud.
Check out Romper's new video series, Bearing The Motherload, where disagreeing parents from different sides of an issue sit down with a mediator and talk about how to support (and not judge) each other's parenting perspectives. New episodes air Mondays on Facebook.