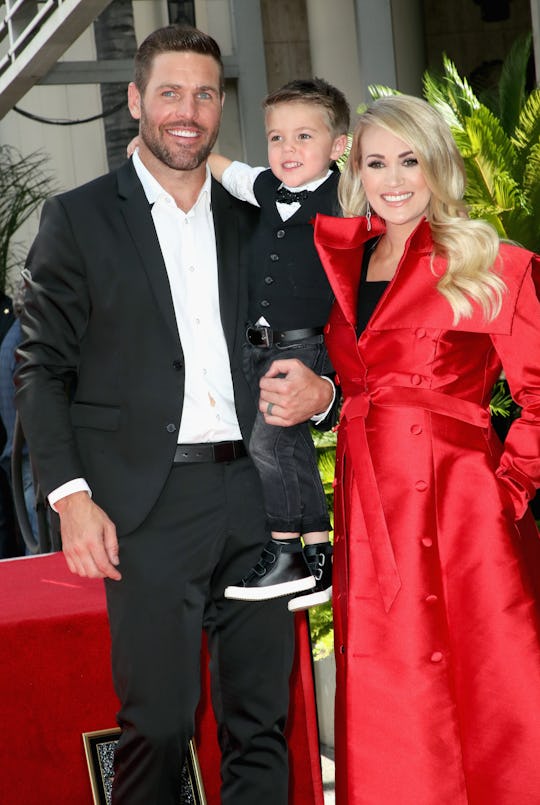 David Livingston/Getty Images Entertainment/Getty Images
Carrie Underwood Reveals How Her 3-Year-Old Son Is Feeling About Baby No. 2
As exciting as it may be as parents to learn that you're expecting, it's often a much more complicated feeling for siblings, especially if you're a youngster used to being the one and only. Earlier this year, country superstar Carrie Underwood revealed the she and husband Mike Fisher are set to welcome their second child, and the news felt particularly joyful considering that they'd also suffered through multiple miscarriages trying to have a sibling for their 3-year-old son, Isaiah. But recently, Carrie Underwood revealed how her son is feeling about his future brother or sister, and, well, it sounds like he's not *entirely* into the idea.
Underwood told People that Isaiah had actually suggested that when the little one arrives, "Daddy could have that baby and then he could be [hers]," which is probably one of the most heart-wrenchingly sweet things a 3-year-old can say. Yet, given that that can't possible happen, the "Cry Pretty" singer said she's well aware that her little guy's "world is about to get rocked" when she delivers.
At the same time, it sounds like Isaiah's idea may not have been totally outlandish. Underwood explained that the she really does have a special bond with their son, to the point where she sometimes feels bad for Fisher. Since a second could technically help tip the scales a little bit, she joked, "Maybe this next one will be all Mike's. Maybe that will be how it works out. Mike needs some love too."
From the sounds of it though, Underwood doesn't particularly appear to be exaggerating about the connection she and her son have. She told People that Isaiah is "just the sweetest," and said:
He looks at me and talks to me and interacts with me like nobody else on this planet. He'll stare at me and I'm like, "What are you looking at?" And he's like, "I just love you." What kid does that?
The good news, at least, is that while some sibling jealousy may be inevitable (it really *is* a big change, after all!), Isaiah also seems to have his moments of excitement, too.
Underwood recently told E! News that her son likes to tell her that "[her] baby's getting bigger" as her bump grows, and said, "He's going to be a great big brother."
Like most celeb moms, Underwood's pregnancy has become the focal point of both her personal and professional life as of late — a reality she admitted can be a little frustrating. Underwood told Vulture earlier this month that while she "[doesn't] mind talking about" her personal life and the new baby on the way, "it can get a little wearing ... when you do wanna talk about new music or you wanna get across that, 'Hey, I write music too.'"
In fact, Underwood said that, as far as she's concerned, she's just like any other pregnant woman who has to juggle her career obligations with the process of growing a human being: she recently told E! News that even though she has "a strange job" that might make her pregnancy seem particularly news-worthy, she just "[feels] like [she's] a working mom," and added, "I'm just like every other pregnant lady trying to go to work."
Of course, Underwood's experience being pregnant in the public eye no doubt makes it at least somewhat different to that of the average woman, but the idea at least is likely something many moms can likely relate to. It can be kind of unsettling, after all, that being pregnant can suddenly feel like it's the most interesting thing about your life — even if you aren't famous — and it can also be tricky to try and explain the emotional complexities of going from parenting an only child to being a mom-of-two, especially to people who may not have experienced it.
Either way though, it sounds like Underwood and Fisher already have a pretty great thing going with their son, and that their little trio is full of so much love. And while it may take a bit of time for them to adjust to having a new little person in their family, chances are it'll just mean even more love and cuddles to go around.