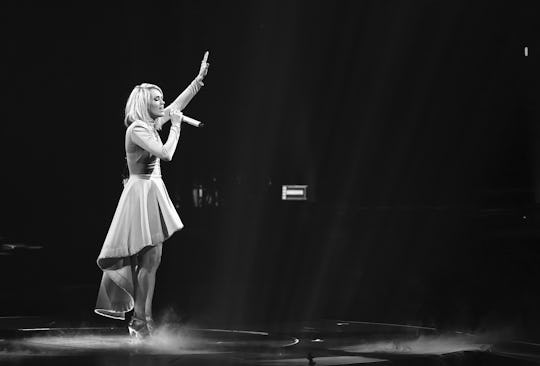 Rick Diamond/Getty
Carrie Underwood & Sam Hunt's Grammys Performance Was Fantastic & Crazy Romantic
What does a Carrie Underwood and Sam Hunt Grammys performance sound like? Ridiculously good and well-coordinated, that's what. Underwood sang "Heartbeat," her current single off her 2015 Storyteller album, which was mashed-up with Hunt's "Take Your Time," from his 2014 Montevallo album. The two songs worked surprisingly well together. Slow, sultry, country — Taylor Swift may have moved on to pop music, but that's OK, because Underwood and Hunt have the genre locked down.
The two singers matched in black and white and sang while staring into one another's eyes. If the two of them announced their relationship after the song ended, I would not have been at all surprised, but I think their passion had more to do with their singing.
Montevallo was Hunt's debut album, but that hasn't stopped him from blowing up the music scene — in fact, he's nominated for Best New Artist and Best Country Album at the 58th Annual Grammy Awards. "I'm just super honored to be with Sam representing country music at the Grammys," Underwood told The Tennesseean after rehearsals on Sunday. On her side, she's been nominated for Best Country Solo Performance for "Little Toy Guns."
The pair began collaborating thanks to an introduction from Zach Crowell, who produced a few songs on both Montevallo and Storyteller and suggested Underwood and Hunt perform "Heartbeat" together at an awards show. It then morphed into a production that saw "Take Your Time" incorporated into the song, luckily for Hunt fans.
"I hope that I stay out of her way," Hunt told ET. "She's so talented and experienced with the Grammys, and she's just such a phenomenal performer that I'm just going to try and just fit into her thing instead of vice-versa."
Totally unnecessary, because Hunt killed it at the Grammys — but his totally grounded personality is awesome and 100 percent adds to his charm.
Underwood is notoriously selective when it comes to whom she collaborates with, according to Entertainment Weekly. "I try not to force anything ever and that's kind of where you can get into some tricky territory," she said. But Hunt — a complete newcomer to the scene — managed to not only collaborate on stage for the Grammys, but to find a permanent place on her album as well.
Needless to say, fans of both singers were loving their joint performance on Monday night. Some of the reactions?
Well, that may have been the most romantic country duet I've ever heard between platonic colleagues. I'm not complaining.