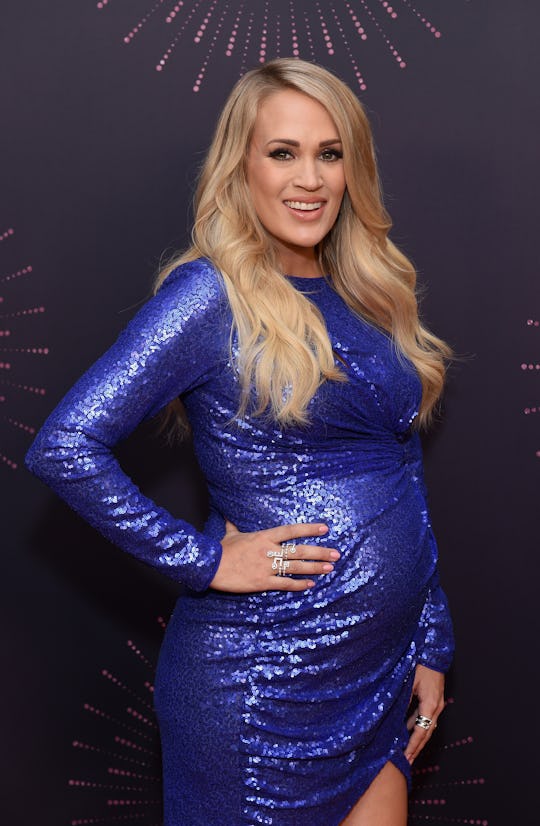 Jason Kempin/Getty Images Entertainment/Getty Images
Carrie Underwood Shows Off Her Adorable Growing Bump With Baby No. 2
It's been a big year for Carrie Underwood. After being injured during a walk with her dogs last autumn — an incident that left her with 40 stitches across her face — coming back this year to release new music and, soon after, announce her pregnancy, it's safe to say that she's keeping pretty busy these days. And just last night, Carrie Underwood showed off her adorable growing bump as she won the Country Music Award's Artist of the Year title, and save to say, the mom-to-be is absolutely glowing.
During Wednesday evening's events as the CMAs, Underwood sported two different glitter-covered frocks, proudly smiling and holding her growing stomach. And during her award speech, People reported she commended the awards for honoring so many women, and reminded them that their presence there was because of the good they do for the world — not just what they look like.
"We need more things like this," she began, according to CMT. "You are not here because you are women, you are here because you're dang good. It is an honor to get to share tonight with you."
Afterwards, she performed a collection of different songs, including Tammy Wynette's "Stand By Your Man" and Dolly Parton's "9 to 5," concluding with her most recent hit, "Cry Pretty."
Back in August, Underwood announced that she was expecting her second child with husband Mike Fisher. The two already share a 3-year-old son together, Isaiah, according to Country Living.
Underwood shared the big news while she made an announcement about her tour, Billboard reported. In a video shared on Instagram, she began explaining why her next tour would be starting in the spring of next year. "You might be wondering or asking, 'Carrie, why is your tour starting in May?'" she begins, as the camera pans out and the words "baby" are revealed. "Mike and Isaiah and I are absolutely over the moon and excited to be adding another little fish to our pond," she added.
However, pregnancy has not come without its challenges for Underwood. In fact, she had already suffered three separate miscarriages prior to her current pregnancy, as People reported.
"I'd kind of planned that 2017 was, you know, going to be the year that I work on new music, and I have a baby," she said, according to People. "We got pregnant early 2017, and didn't work out... And that was the thing, in the beginning, it was like, 'Okay, God, we know this is, just wasn't your timing. And that is all right. We will bounce back and figure our way through it.'"
Underwood opened up about how she dealt with her feelings of anger and disappointment that pregnancy didn't turn out the way she had anticipated in an interview with CBS News:
I had always been afraid to be angry... Because we are so blessed. And my son, Isaiah, is the sweetest thing. And he's the best thing in the world. And I'm like, "If we can never have any other kids, that's okay, because he's amazing." And I have this amazing life. Like, really, what can I complain about? I can't. I have an incredible husband, incredible friends, an incredible job, an incredible kid. Can I be mad? No.
In the same interview with CBS News, she continued: "Why on Earth do I keep getting pregnant if I can't have a kid? Like, what is this? Shut the door. Like, do something. Either shut the door or let me have a kid."
Of course, those feelings are completely normal for anyone going through the loss of a pregnancy. However, it's encouraging to see her in a different place now, grateful and ready to welcome her second child, despite all of the challenges that she has endured over the past few years.